There will be more than 3 billion social media users by the end of 2021. The global penetration rate of social media networks is currently 49%. That means almost half of the world population uses social media!
If you own an e-commerce business, social media marketing should be one of your most significant assets. You need to leverage the power of social media networks to reach your customers where they hang out the most.
Social commerce uses popular social networking sites such as Facebook and Twitter to promote or sell an e-commerce business. You need to keep up with the latest social commerce trends if you want to stay ahead of the game.
In this post, we are going to talk about what social commerce is and how it works. We are also going to lay down the latest trends in eCommerce social media marketing strategy you can follow to give your business a social media boost.
Ready? Let's go!
What is Social Commerce Exactly?
Social commerce is essentially social media marketing strategies for eCommerce businesses by leveraging social networks to sell products. With the power of social media marketing for eCommerce, you can turn strangers into raving customers who love your products and are often talking about your business to others.
Most people who visit an ecommerce site do not purchase anything. In Q2 of 2019, only 2.58% of website visits ended up in a sale. That's a tiny segment of website visitors, isn't it?
Now think about this – What if your customers never even had to come to your website to buy something from you? What if they could remain on the social media platform they were using when they heard about your product and buy it directly from there?
The possibilities are endless with social commerce and new trends in social media advertising technology.
How Does Social Commerce Work?
Four of five businesses in the U.S. already use at least one SaaS application. And although you don't have to pay money to set up your social media accounts, they can be considered a sort of software-as-a-service since you don't need to download any software to use these sites.
Social commerce is the ability to buy something from a company from within the social media site they are advertising on. This fulfills many goals for your eCommerce marketing and your business. It helps you engage customers with your brand according to their social media habits.
Social commerce provides your customers with an incentive to visit your website. Utilizing social media marketing also gives them a platform to talk about your products with their friends and connections. Building trust with your audience is crucial to gain credibility as a B2B business. Using social commerce is one way to do this.
Above all, social media eCommerce marketing also gives your customers all the information they need about your company as well as your competitors' so that they can research, compare, and choose your products over others.
How Can Social Commerce Help Your Business Grow?
There are tons of benefits to social commerce. People can browse through products without leaving their favorite social media sites. They can easily share recommendations with friends and family members.
Social commerce can give your B2B side a boost, too. Your social media audience grows consistently as your social storefront gains popularity. It also leads to higher engagement on your site, leading to better search rankings.
Most of your social media audience members are genuinely interested in your business and products. This means your social media engagement and traffic is more authentic. Customers tend to be more loyal to those businesses and brands that they follow on social media when compared to faceless companies.
You can also experiment by running PPC (Pay-Per-Click) campaigns on your social media accounts to advertise ecommerce naturally.
Here's what Loganix has to say about social PPC campaigns:
"Social commerce has one big benefit: You can run social PPC campaigns for pennies to the dollar with built-in selling features that didn't exist just a few years ago. These allow your customers to convert right on the app, improving success rates."
Another great benefit of social commerce for your business is that you get to gather social media analytics and track the success of your campaigns.
6 Social Commerce Trends Guiding 2020
1. Increase in integrated ecommerce features.
One of the most practical trends in social commerce is the integrated ecommerce feature on certain social media platforms.
Incorporating this feature in social media helps businesses sell their products and services on particular social media sites. The payments are made either on your company website or another secure pathway so customers can be sure that their transactions are protected.
For example, with Instagram's checkout feature, people can buy items without leaving the app. Instagram now acts as a storefront for customers to browse through different products and buy from within the social media app.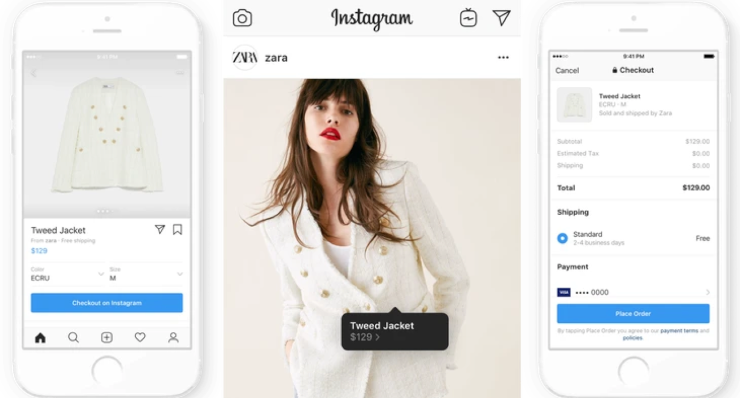 Image Source
Another example of social commerce is Facebook. With Facebook Shop, you can add an online store to your Facebook page so that customers can buy products from you while they browse through Facebook.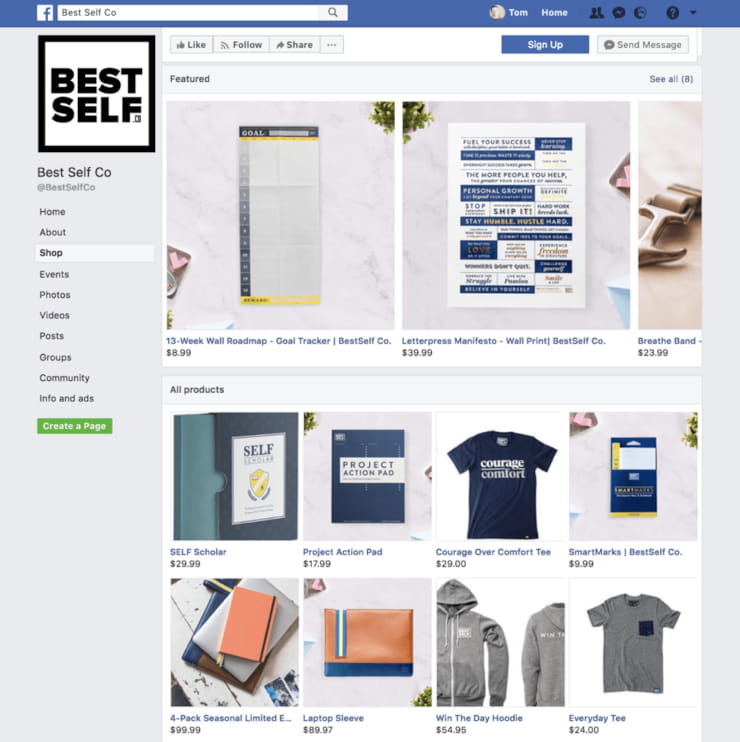 2. Newer social media channels will embrace ecommerce.
Apart from the more popular social media channels like Instagram, other newer channels will start incorporating ecommerce as well.
With the rapid increase in the use of social media the world over, people will be adding to the list of platforms they are on.
These new social platforms will provide businesses like yours with more opportunities to connect with followers and improve their ecommerce experience.
Take TikTok, for instance. The short video sharing app and social platform has dipped its toes in social commerce by allowing some users to link to their ecommerce sites in their biographies. This again helps you turn your customers into fans, who would then share your company's products with their followers.
Here are some TikTok facts that show you exactly how big the platform is: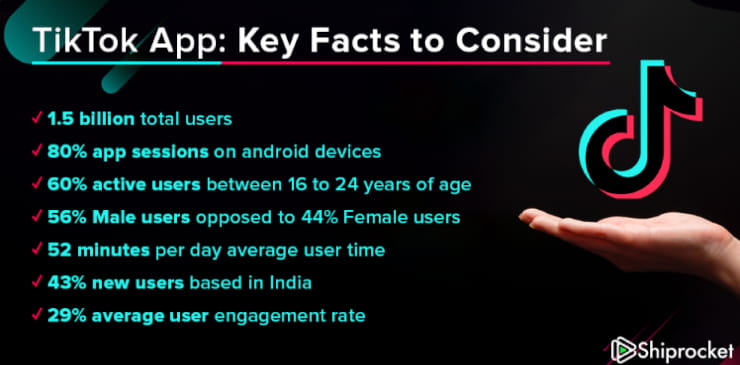 Moving to new platforms also keeps your brand looking fresh and appealing to your audience.
3. Companies will still leverage influencer marketing.
Social media influencers are those who have built a loyal following in their niche. When companies collaborate with influencers in their industry to increase brand awareness among a target audience, it is called influencer marketing.
Orbit Media defines influencer marketing like this:
Influencer marketing is focused on the key people who have built the audience you want to reach. The goal is to connect with these influencers and collaborate, allowing you to borrow that audience in a sensitive and considerate way.
89% of marketers say that ROI from influencer marketing is almost the same or sometimes even more than other marketing channels. It's no surprise that 17% of marketers claim to spend over 50% of their marketing budget on influencers.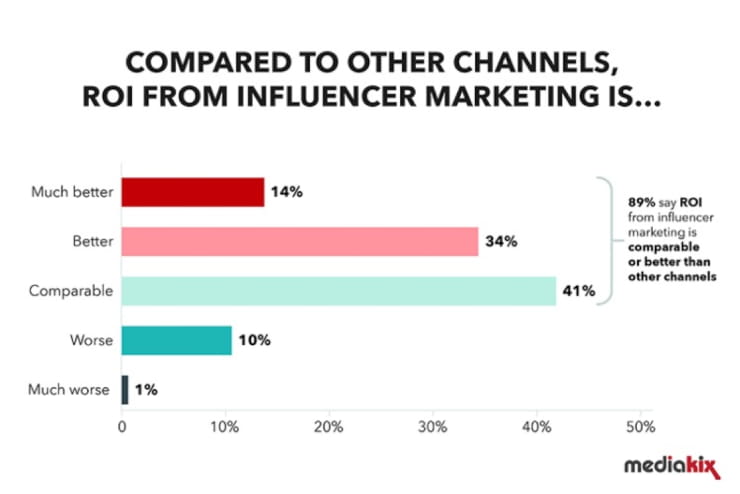 Find influencers that will suit your brand image so that you will be more relatable to their audience.
4. Richer content and visuals have become a necessity.
Rich media, video content, and other visuals that can be incorporated in your content can help engage your viewers/ readers more. There are different kinds of content you can experiment with to see which one is more well-received by your audience.
Marketers are steering away from static images and plain text for videos, podcasts, and other interactive media to connect with their audiences.
Podcasts: You can set up a podcast for your company, create content that your audience would like to listen to, and later repurpose podcast clips on social channels. You can then link back to your site or store from these clips.
BuzzSprout says:
Instead of the fractured connection you make through social media, podcasts allow you to engage your audience with unique long-form content. Podcasts are more convenient than blog posts; people can listen to podcasts while driving, working out, or just doing chores around the house.
Video: 85% of marketers use video as a marketing tool, and 92% say that video is an integral part of their marketing strategy. Plus, embedding YouTube videos in your blog posts both increases YouTube views and your blog's time on page. There are different types of video hosting software to choose from: Youtube, Vimeo, Vidyard, Loom, Hippo Video, and VidGrid.
Interactive Content: Content such as quizzes, calculators, and interactive infographics encourage your customers to interact with your brand and share your content with their friends and contacts. If you started a blog and only include text and images in your posts, adding these interactive elements can increase your readers' time on page and engagement.
5. Increased use of messaging apps in marketing.
There were 2.01 billion messaging app users globally in 2018, and this number is set to increase to 2.48 billion by 2021.
Messaging apps help build relationships with customers as they are more personal and immediate. It helps forge a direct link between you and your audience.
It is, therefore, natural to include the use of messaging apps like Facebook messenger and WhatsApp in your marketing strategy as a business.
For instance, Zoma Sleep uses Facebook messenger to reach out to customers as soon as they have a question. This helps them be accessible as a brand and shows their customers that they care.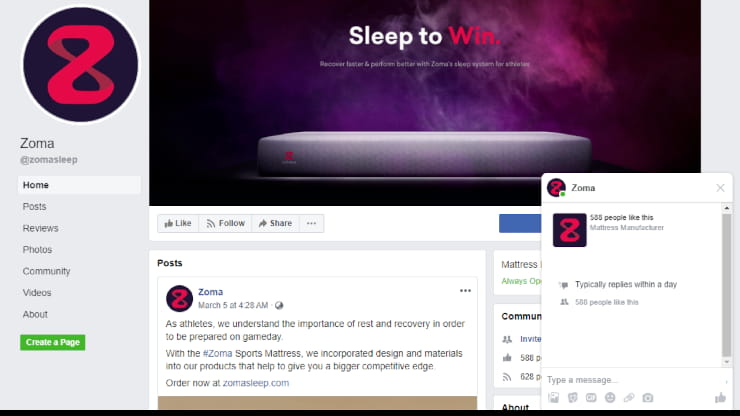 6. Social commerce sales funnels are becoming popular.
Although most people may assume that any traffic from social media could only be cold traffic, this is not always true.
If you create a well-planned strategy to give your customers the right message at the right time (when they are ready to buy), then your social sales funnels will be a success.
Rather than just passive posting on social media, you can use social media for outbound selling and acquiring new customers. Reply talks about how you can even use tools to automate manual tasks such as social postings.
You can also use simple project planning templates to collaborate with your team, align your social posts with project timelines, and get real-time status updates.
You must not look at social media as the endpoint of the customer's journey, but rather a part of it. Customers go through different touchpoints in the buyer's journey, and this is not always straightforward.
Social commerce sales funnels help bring awareness about the brand and build trust and familiarity. It is a great way to generate leads, run marketing campaigns, and drive sales.
Social is also a way to fill your email list and funnel. When you set up proper email tracking for your business, you can determine exactly what portion of your sales and leads are from social channels. You can choose a service like RightInbox to help you with email tracking right from your Gmail account: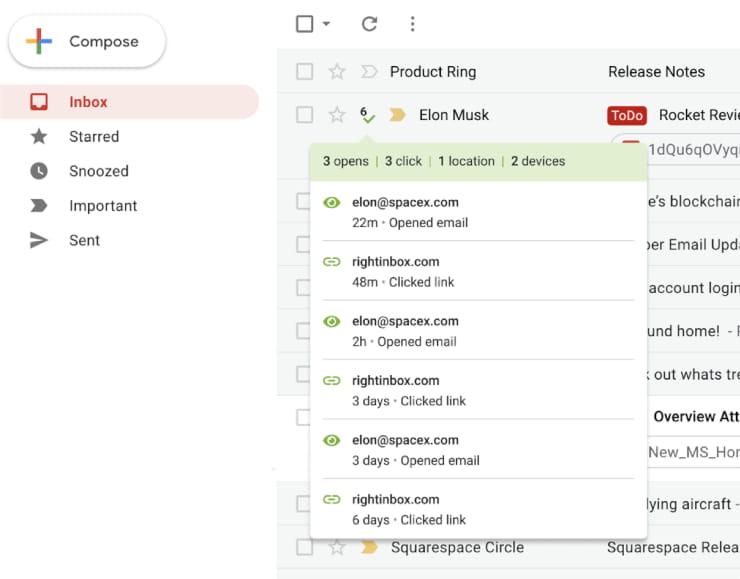 Executive Summary
Social commerce is catching on as more people are creating social media accounts on various platforms. A simple way to define social commerce is that it is the selling of products to customers on a social media site.
Social ecommerce helps you grow your audience, engage them with your brand, and gives them a platform to talk about your brand to their connections.
Many social media sites are including ecommerce features so that customers can shop from their favorite brands without leaving the site. This is critical to having proactive customer service.
Influencer marketing is growing strong as more brands approach influencers with an engaged audience in their niche. People tend to trust their peers more than faceless brands, which is why content creators have a strong influence on them.
Keeping up with the latest ecommerce social media trends will make you more relatable to your target audience, and thus help you connect with them on a more personal level.
About the Author: Beatriz Estay
Beatriz is a Small Business Content Marketing Specialist at BigCommerce and the fashion and lifestyle influencer behind The Letter Bea, an Austin, Texas based blog. She holds a B.A. in Communication and Sociology/Anthropology from Lake Forest College and specializes in ecommerce, marketing and merchandising strategies, influencer and branding work, and social media. When she's not curating content, Beatriz loves to travel the world, share her journey with Type 1 Diabetes, and find Austin's most Instagram friendly spots.