You're in Complete Control
with Juicer's Social Media Moderation Features
Juicer's social media aggregator allows you to curate and moderate all of your social media content into one, beautiful feed you can embed on your website. Your posts, hashtags, and customer generated content are all pulled into Juicer, putting your social side on display so you can connect with your customers and followers.

Luckily, with Juicer's social media moderation features, you have complete control over what people see.

Sign up for Juicer
Social Media Moderation & Filtering
All of Juicer's paid options include social media moderation and filtering features, which give you complete control over what you want to be displayed on your Juicer feed. No matter what social network you're on Juicer can moderate it and help you show off the best social content for your brand. Better yet, Juicer's social post filtering and moderation is easy to set up.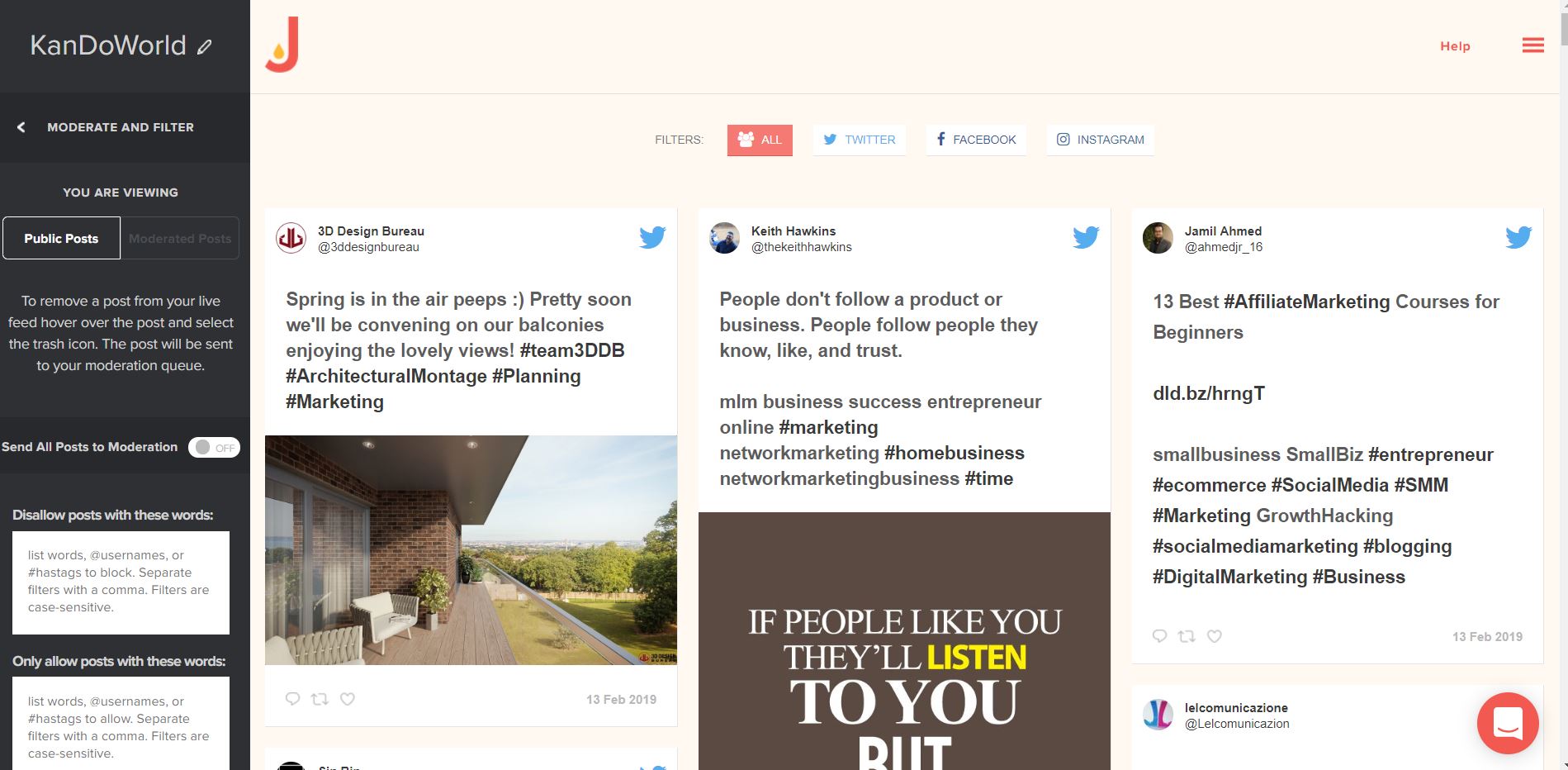 The Social Media Moderation Queue
Juicer lets you pick how much social media moderation you need. If you want to personally moderate each post before it goes live on your feed, you can select the "Send All Posts to Moderation" button. No posts will appear on your live feed without your approval. From there you can "Approve" or "Reject" content. If that's not your style Juicer has automated social media moderation options available.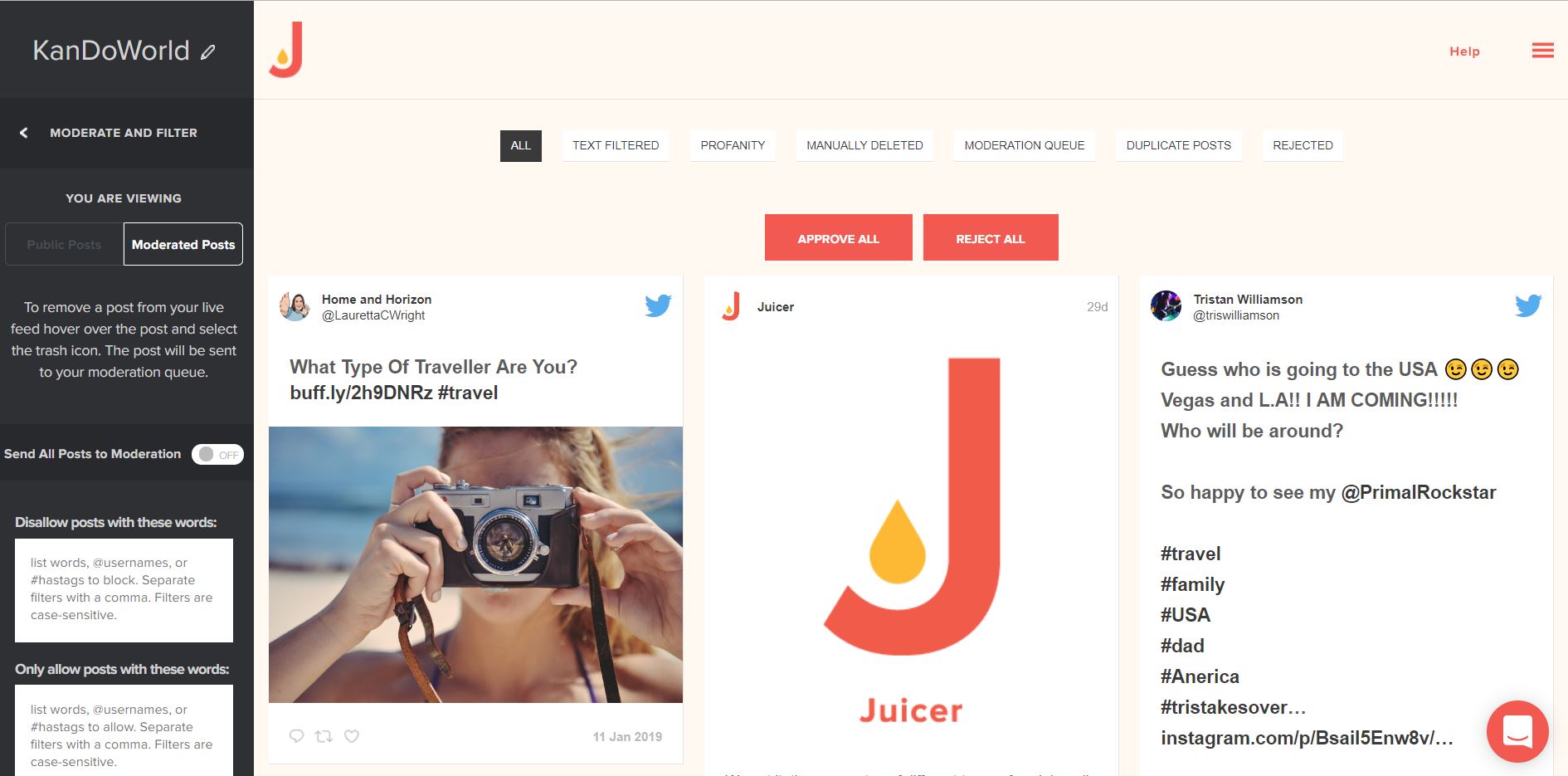 Get Notifications for Posts Awaiting Approval

Never miss a beat and keep your social media feed fresh with social media moderation notifications. Within your account settings, you can enable email notifications of new content that is awaiting approval in the Juicer social media moderation queue.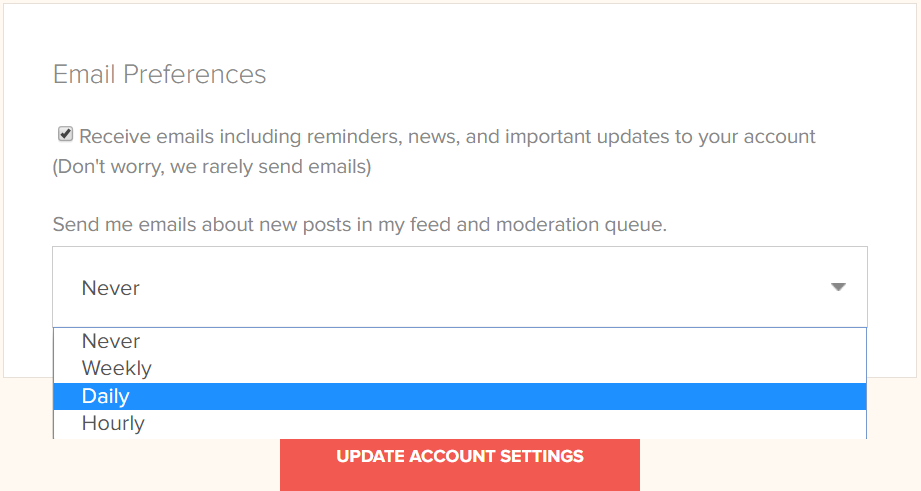 Get a 7-day free trial of Juicer's Social Media Moderation features when you sign up for the free plan.
Sign up for Juicer
Automated Social Media Moderation
"Disallow Posts With These Words Option"
You don't need to moderate each social post, you can automatically set social media moderation filters to disallow certain posts. Simply enter the chosen word into the "Disallow" field with various capitalizations separated by commas to ensure all variations of this word won't pop up in your feed.
Profanity Blockers
Block profanity from entering your feed! Moderate your social feed for profanity with the click of a button. The Juicer dashboard contains an immense library of profane words and statements that will be blocked by "Don't allow posts with profanity". This ensures your Juicer social media feed stays as professional and clean as possible.
"Only Allow Posts With These Words Option"
Similarly to disallowing certain words, you have the option for the feed to only allow posts with certain words. Add the words you want to filter into the box with all of its variations. You can also filter posts by hashtags. Block and allow hashtags just like you can with normal words.
Prevent Duplicate Posts

Juicer aims to keep your feed original with fresh, unique content by preventing duplicate posts with the simple click of a button. Juicer's social moderation will remove any post that has the same content as another, even if it's from a different source. It does this scan hourly to ensure each post is original.
Juicer's Social Media Feed Moderation in Action
With the ability to moderate your social media posts and set up automated filtering features, you can proudly display user-generated content in a beautiful social media feed for everyone to see. Sign up today and see what you can do with Juicer's social media moderation tools.