WordPress Social Feed Plugin
Are you looking for a better way to incorporate your favorite social media channels into your WordPress site? Meet Juicer, the #1 WordPress social feed plugin. With over 10,000+ downloads of our WordPress plugin and a stellar 4.5-star rating average, Juicer is the best way to display social media feeds on your WordPress website.
What is a Social Feed Plugin?
Juicer turns lemons into lemonade by organizing your social media content from all of your favorite social networks into simple and beautiful social feeds. You can download the Juicer WordPress social feed plugin for free and, with a simple shortcode, embed Juicer's social feeds into your WordPress web pages.
Get the WordPress Plugin for Free
Benefits of Juicer's WordPress Social Media Plugin
With Juicer's social media feed aggregator you can integrate content from a wide variety of social media channels into one WordPress social plugin:


SOCIAL FEEDS WITH DYNAMIC LAYOUTS
Enjoy social feeds using a responsive grid for dynamic layouts and customization features to fit your existing WordPress theme.

SOCIAL FEED ANALYTICS
Find out who uses your WordPress social feed, and how they interact with it.

AUTOMATIC WORDPRESS PLUGIN UPDATES
Gather your WordPress social feed content by @username or #hashtag

SOCIAL FEED FILTERS
Set up rules and filters to automatically eliminate unwanted content retweets and duplicate posts in your WordPress social feed.

SOCIAL FEED CUSTOMIZATION
Style your WordPress social feed to fit your brand or site.

SOCIAL FEED PERMALINKS
Our WordPress social plugin includes permalinks to each of your social media posts, optimized for SEO

SOCIAL FEED MODERATION AND FILTERS
Auto-approve all your social feed's user-generated content, or set up auto-moderation filters.

INFINITE SCROLL SOCIAL FEEDS
Load more social feed content simply by scrolling ... and scrolling ... and scrolling.
WordPress Social Feed Plugin Quick Installation Guide
Download the

Juicer Social Feed WordPress plugin zip file

, unzip it, and upload the plugin to your WordPress site under the

/wp-includes/plugins directory.



Sign up to

create a free social media feed

with Juicer.





Once you've done that you can use the shortcode:




[juicer name='YOUR_FEED_NAME']

in any post or page on your WordPress site.
To get your Juicer social media feed name:
Login

to your Juicer account

Navigate to http://www.juicer.io/feeds

Click "Edit" on the social feed you wish to embed

You should be taken to a URL like http://www.juicer.io/feeds/juicer

The 'juicer' portion of the URL is your social feed name.

To use a shortcode for the embed feed try

[juicer name='juicer']

Make sure you replace the

name

above with your social feed's name.

Alternatively, you can add the social feed to your WordPress template directly if you like using PHP. Here's an example:

<?php juicer_feed('name=juicer'); ?>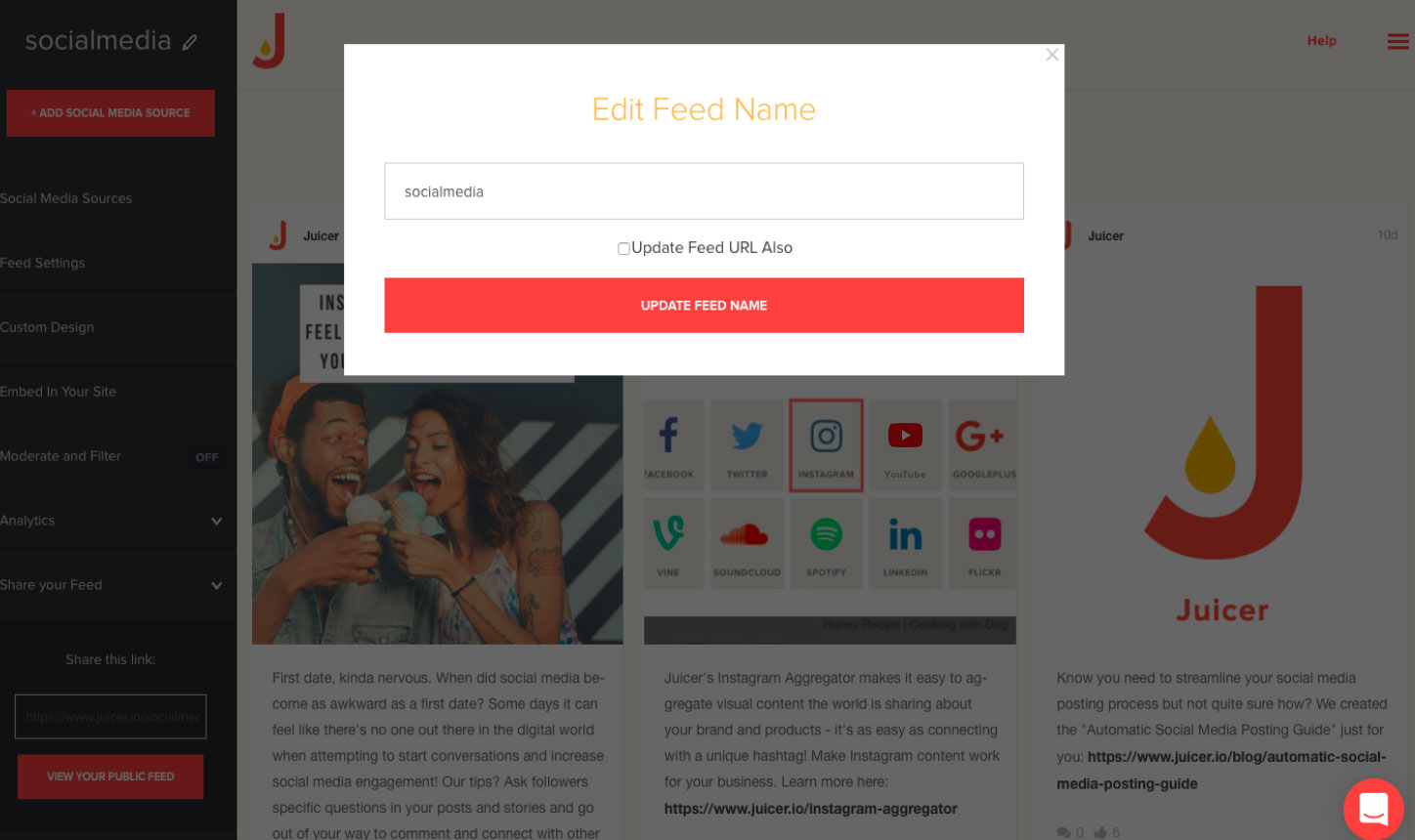 Examples of Juicer's WordPress Social Feed Plugin in Action