Want to embed a TikTok video feed directly onto your website? You're in good company. As of September 2021 the social media giant reportedly has 1 billion monthly users. But that should come as no surprise—it's common knowledge that the platform is loved by all worldwide. 
People, regardless of age, gender or ethnicity, spend an astonishing amount of time creating or engaging with the videos on this platform. So there's really no reason not to take advantage of this widespread hunger for more TikTok content by sharing it where you know your audience will be!
Whether you are a web designer, digital marketer, corporate brand or TikTok video creator, you'll want to use the tool's power to elevate your website engagement and diversify your content. In this TikTok embed guide, we will share how you can easily do all of that and more. Whether you'd like to embed an individual TikTok video or an entire TikTok video feed on your website, we'll take you through how to do it step-by-step regardless of whether or not it's hosted on WordPress.
Keep reading to learn how you can easily integrate and customize your own TikTok video feed with the help of our free TikTok aggregator.
How Do I Embed a TikTok Feed on a Website?
Want to know the most convenient way to embed a TikTok feed on your site? You only need one thing: Juicer.  Juicer's free TikTok aggregator for social walls makes it super easy to embed and manage a TikTok feed on your website with just a little copying and pasting. 
Not sure if your platform is compatible? From WordPress to Shopify (or custom website), any website can be connected to your new TikTok feed simply by using the power of Juicer. You can even add Juicer to your chosen website's social wall!
Ready to embed your first TikTok feed on a website? There is more than one way to do it. Several scenarios have been outlined here to guide you through the process:
How to Embed a Single TikTok Video The Official Way (Via TikTok Itself)
There is a limit to how many videos you can embed at a time on TikTok: One. According to their official guide that means you can't manually embed an entire video feed.
If you would still like to individually embed one or multiple videos to your articles and websites, all you have to do is follow these steps:
Step 1: Go to your desired video webpage on

tiktok.com
Step 2: Locate the "Embed" button at the lower right corner and click on it
Step 3: An "Embed video" pop up window will appear with the code
Step 4: Click on "Copy Code" at the bottom and it will be copied to your clipboard
Step 5: Now you can paste the code where you want the video to be embedded
Short on time but need to embed more than one video? Fortunately, you can embed entire TikTok feeds on websites with the help of free social media aggregator tools like Juicer. Social media aggregator tools can also help you integrate multiple accounts or social media channels, manage curation, and deliver additional benefits to your audience.
How to Embed TikTok Feeds into Websites Via a Social Media Aggregator (e.g. Juicer)
If you are trying to find a way to seamlessly embed a full video feed from a TikTok account instead of embedding videos one by one, Juicer's TikTok Feed Aggregator is one of the easiest solutions out there. And it's available for free.
Your Step-by-Step Guide to Embedding full TikTok Feed with Juicer
Join Juicer.io today and create

a free account

.

Connect the TikTok account you'd like to embed. Once linked, it will automatically generate a feed wall within your dashboard.

Customize the feed with different settings such as feed style, display size, TikTok post arrangement and so on.

Edit your design and color scheme for various feed elements to match your branding. 

Choose and implement filters that include or exclude TikTok videos containing specific words, #hashtags and @usernames.

Click on the "Embed in your Site" option from the menu on your left hand side.
And Voila! You now have the embed code for a full TikTok video feed. Go ahead and use it on any website no matter where it's hosted. Wix, Squarespace, Shopify or a custom built web platform—any site that supports media embedding will be compatible.
How to embed TikTok feed in WordPress
Sign up for a

free Juicer account

.

Connect your TikTok account. 

Choose a design style for your TikTok feed.

Set up filters to automatically include or exclude specific videos. 

Install and activate the free

Juicer WP Plugin

.

Copy and paste the shortcode from your Juicer dashboard onto the page. Or, if you're tech savvy, you can also use the Juicer PHP function.
Why use a social media aggregator to embed TikTok feeds?
Easy Curation
Automatically filter posts by chosen hashtags and metadata. 

Manually select content you'd like to appear on your TikTok feed through seamless integration.

Set up automatic moderation filters to approve relevant user-generated content.
Seamless Aggregation
Curate posts from any of our 15 other linked platforms—including Instagram, YouTube, Facebook, and Twitter—in addition to TikTok to create a single social media feed that houses all of your channels in one place. 

Utilize @usernames and #hashtags to aggregate content from TikTok and any other social network.
Aesthetic Design
Match your website's style with a responsive grid for dynamic layouts and customizations.

Allow site visitors to infinitely scroll through your TikTok video feed with content that automatically loads, just like on the app. 

Seamlessly integrate your feed with existing branding using custom CSS.
Analytics Data & SEO Benefits
Discover how your WordPress TikTok feed is used by your website audience to create better marketing experiences. 

Improve SEO with the help of a clutter free permalink structure for each of your TikTok videos!
Embed Individual TikTok Videos into a WordPress Post or Widget Without a Plugin
Yes, you can embed videos from TikTok one by one into your WordPress posts or pages without a plugin. And it's super easy! Simply follow these steps:
First, copy the TikTok video URL that you want to integrate into your WordPress post, page, or widget.

Next, go to the edit screen of the post or page where you would like to showcase the video.

Finally, paste the copied URL where you want it to appear and you're all done! WordPress will now automatically embed the full video into your page.
Alternatively, you can also do this by utilizing a TikTok block. A TikTok block is an embedded video that appears in a sidebar or footer on your WordPress website through a widget. This is also super easy to add:
Using the left menu, go to Appearance > Widgets.

Select and place a text widget on the sidebar or footer.

Paste your copied TikTok video URL into the text widget. WordPress will load the video automatically for your website audience to enjoy.
Inspiring use cases for embedding TikTok feed on Websites
Influencers on TikTok share their content on their own websites
We are seeing that more and more influencers want full control of their own content. Even if it's posted to TikTok, embedding a TikTok video feed on their main branded website provides an easier and more professional way to manage requests from media, partners, and clients. Influencers can even use their TikTok embedding tool to collect and showcase content from any of their other social media platforms all in one place.
One great example of a content creator who is maximizing their website visitor engagement through TikTok feed embedding is Robin Kiera. Kiera is a German finance influencer with more than 400,000 followers on TikTok. He also runs a business and technology trend-tracking agency known as Digital Scouting, started his own conference, and frequently appears as a keynote speaker at industry events.
For prospects as well as clients of his agency, it's important that they see he has a comprehensive understanding of TikTok so that he can consult them on how to succeed there too. He often coaches clients who are not present on TikTok or other major social media platforms yet or those who simply don't know how to grow their following.
For Kiera, having a TikTok video feed embedded directly onto his website makes the most sense. Not only is it where his clients prefer to contact him but it's also yet another credibility indicator that proves he knows how to successfully reach audiences through this important marketing tool.
Example: Dr. Robin Kiera
Even universities have started creating content on TikTok
Younger generations growing up with social media networks such as TikTok have created a new challenge for universities that want to reach future students. In rethinking their strategies, more and more schools have begun marketing on the video-sharing app. Still, their university websites provide the most trusted information source for prospects.
Given all of this, it makes strategic sense why higher education brands like the University of Oregon have chosen to embed their social media content from TikTok to their websites using Juicer.
Example: School of Journalism and Communication, University of Oregon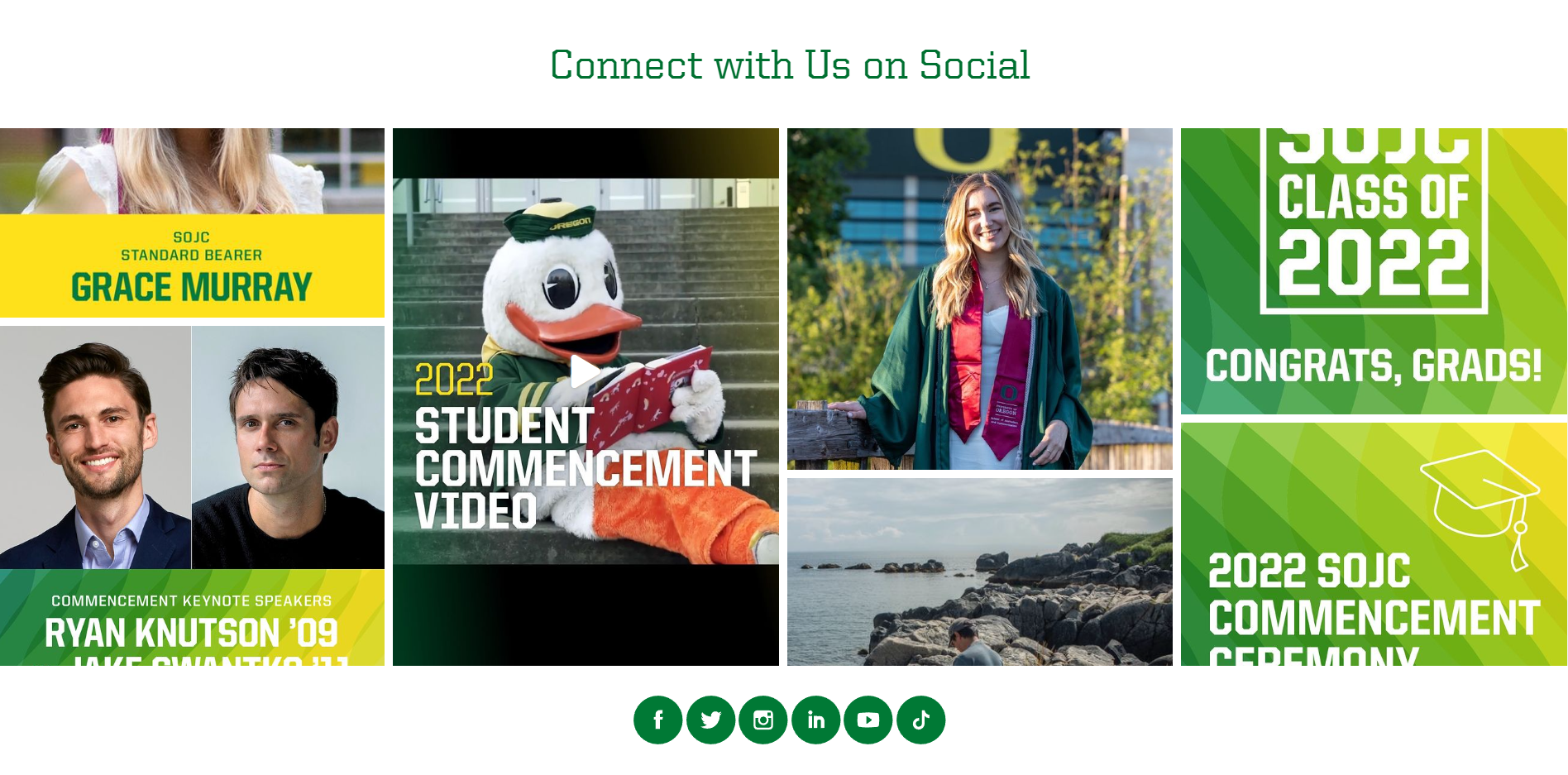 TikTok is gaining more and more traction every single day around the world. Even though at its very beginning it was regarded as just another fun app for young people, it's now widely used by everyone from consultants to universities.
Want to engage your audience and gain more ownership over your own content? Don't miss the opportunity to integrate TikTok's addicting short videos into a platform which is uniquely yours (e.g. your WordPress blog). Add your TikTok videos to your site the easiest way possible by trying out Juicer for free today.
Frequently Asked Questions
Have questions? We are here to help.
To embed a TikTok profile feed or specific videos on WordPress you can either use Juicer's WordPress Plugin or use this guide that covers various methods on how to embed TikTok onto your WordPress website.
To embed a TikTok feed on WebFlow you can use Juicer.io, which makes the set-up super easy and allows you to select the videos you pull into the feed through hashtags. For more information you can refer to this guide that covers various methods on how to embed TikTok video feeds onto your WebFlow website.