Embed Instagram feeds on your website to bring your social media posts and brand together. Including an Instagram feed to your website is easy and has many benefits too. 
If you're already manually uploading Instagram posts to your website, automating the process and embedding an Instagram feed directly on your site will save you time and effort in showcasing your brand's social media content and improve your social presence.
In this post we will explain how you can embed your personal or Instagram business account on your website. 
Reasons to embed an Instagram feed on your website
While your website might be managed by your IT department, marketing managers post news and company stories on Instagram and other social networks. By embedding Instagram feeds, marketing managers are also able to bring updates to your website without requiring access to or expertise in your CMS e.g. WordPress. Your most creative employees are not necessarily also technical experts, but posting on social media everybody has done for a long time.
By embedding an Instagram gallery website visitors always have the feeling of looking at a fresh and updated website. Looking at static websites that haven't been updated for several months always feels a bit like the company doesn't really require new clients.
Some stories you would like to present to your prospects and clients are just not long enough to fill a full page or blog post, but on social media this has been the most common case. So embedding Instagram feeds allow you to publish these short pieces of content on your website without having to think it might look awkward.
When you embed Instagram feeds on your website, your visitors get a glimpse into your creative, social side as they browse your site. (And may be prompted to give your brand an IG follow, if they're not already!)
How to embed an Instagram feed The official way (via Instagram itself)
Unfortunately, Instagram itself only lets you embed a single post at a time. To do that, you just need to
navigate to the post you'd like to embed
click on the three dots (…) at the top right corner
select 'embed'
Paste the embed code into the HTML code of your website
Luckily, there are free tools available that also let you embed complete instagram accounts on a website and even deliver additional benefits like custom design features, curation management and aggregation of multiple accounts or social media channels. These tools are called 'social media aggregators'. Juicer is one of those tools, you can also call it Instagram Aggregator. 
How to embed Instagram feeds via a social media aggregator (e.g. Juicer)
As mentioned above, using a third party widget or plugin to embed Instagram posts not only provides the ability to embed an Instagram account instead of only a single post but also delivers valuable additional features to help you present the best possible Instagram feeds for your company or brand.
Benefits of using a social media aggregator
Curation
Manually pick or exclude single posts, or use hashtags and/or meta data to decide which posts should make it onto the Instagram feed on your website.
Auto-approve all your user-generated content, or set up auto-moderation filters.
Aggregation
In addition to Instagram, aggregate posts from more than 15 more sources such as YouTube, Facebook and Twitter. Add all of your favorite social media channels in one beautiful social media feed.
Easily aggregate both brand-generated and user generated content from Instagram (and any other social network you want to display on your social feed) by @username or #hashtag.
Design
Responsive grid for dynamic layouts and customization so your Instagram feeds seamlessly match your brand's style on your website.
Infinite scroll: load more content simply by scrolling … and scrolling … and scrolling.
Custom CSS: Style it to perfectly fit your brand and site.
Analytics & SEO
Find out who uses your social feed and how they interact with it.
Permalinks to each of your social media posts, optimized for SEO (as of recently, Instagram also supports adding img alt tags to your photos, which are helpful for both users and for SEO).
Step-by-step guide to embedding an Instagram feed with Juicer
Connect your Instagram account (and any other social media accounts you want to aggregate)
Pick a design style for your feed (and customize further if you like)
Set up filters (e.g. only posts with certain hashtags)
Copy & Paste the code into your HTML
How to embed Instagram feeds in WordPress
Connect your Instagram account (and other social media accounts)
Pick a design style for your feed (and customize further if you like)
Set up filters (e.g. only posts with certain hashtags)
Install and activate the Juicer WP Plugin
Copy & Paste the shortcode from your Juicer dashboard into page (For experts: You could also use the Juicer PHP function)
Use cases for embedding Instagram feeds and galleries
Embed an instagram feed into the hero slider
Some of our customers even embed the feed into the hero slider of their websites, which makes sure new posts get seen by website visitors. Juicer allows you to customize the css so it perfectly fits into your hero section.
Example: Bon Jovi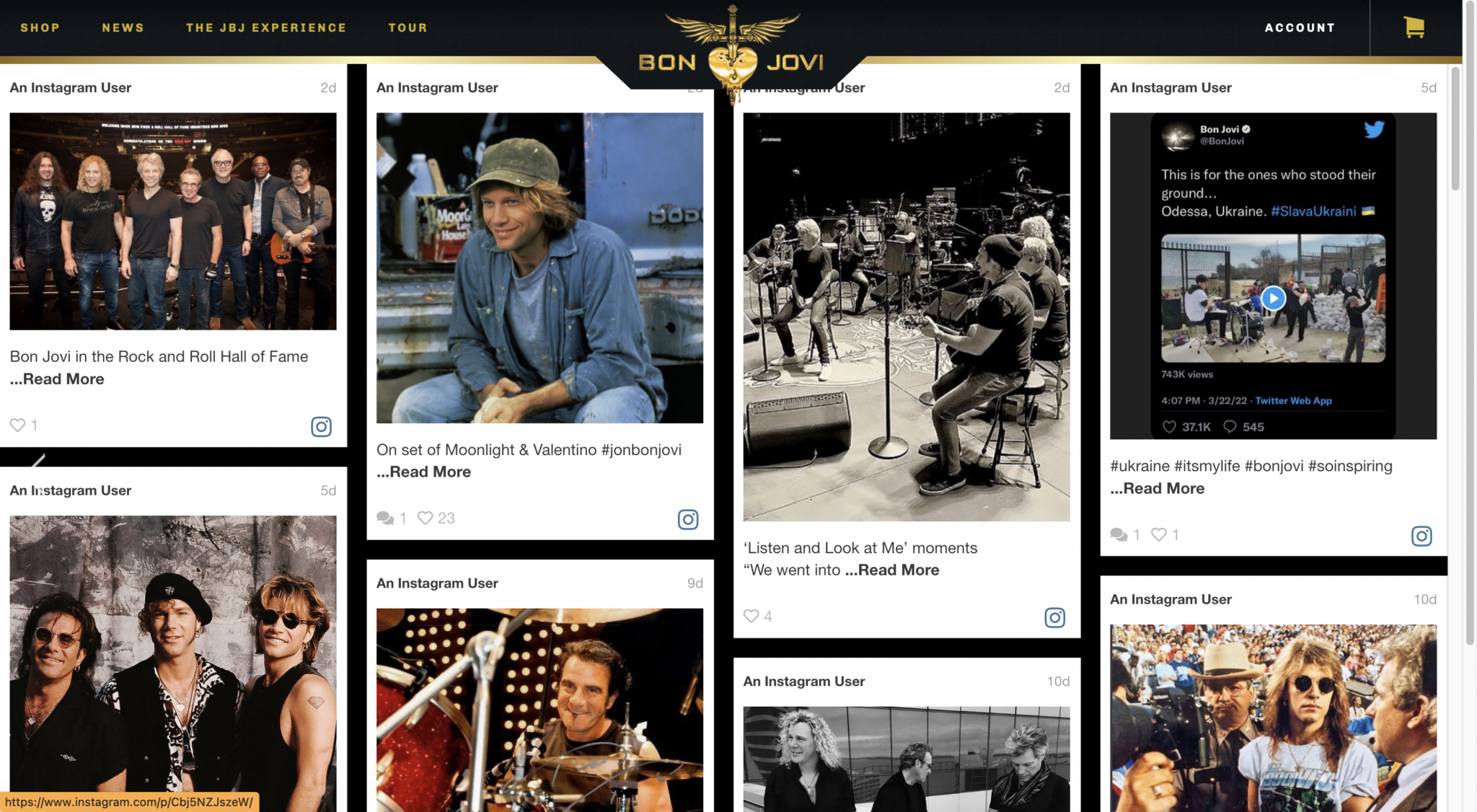 Let your happy guests promote your hotel or restaurant experience
In the hospitality sector it's particularly hard to provide a real impression of your restaurant or hotel to prospective visitors. Everybody has visited places that looked amazing in the pictures shown on the website, but the actual experience wasn't anywhere close. Even user-generated reviews on Google Business or Yelp sometimes don't match up with reality. Regardless of the frequent mismatch between expectation and reality, customers being happy enough to share their stay with their followers on social media networks like Instagram gives credibility that reviews and websites often can't.
Example: Cavallina Bianco Hotel (Italy)
Provide brand ambassadors a stage on your website
Great brands often have a loyal fan base, and loyal fans make for the best brand ambassadors, so it makes sense to give them a stage on your website. Take for example Pepperidge Farm and their beloved brand Goldfish Crackers. Pepperidge Farm capitalizes on their brand love by are showcasing user generated content on their website using a Juicer wall and  the hashtag #GOLDFISHMOMENTS. To avoid misuse and spam use of your brand's hashtag in a Juicer feed, you can also manually approve posts that appear on your aggregated social media feed. Linking to a hashtag gallery on Instagram you don't have that option. That's one of the ways in which Juicer helps you and your brand tell a consistent story that highlights the love your brand receives on social media while providing credibility for anyone yet to experience it.
Example: #GOLDFISHMOMENTS by Pepperidge Farm
There is no denying that Instagram is a fantastic marketing tool, and by adding an Instagram feed to your website, you can truly maximize your efforts and easily provide social proof to users. Juicer's Instagram feed is free to start and offers affordable options jam-packed with cool features. So what are you waiting for? Add an Instagram feed to your website today!
Frequently Asked Questions
Have questions? We are here to help.
To embed a Instagram feed on WordPress you can either use Juicer's WordPress Plugin or use this guide that covers various methods on how to embed Instagram onto your WordPress website.
To embed an Instaram feed on WebFlow you can either use Instagram's native embed code (limited) or you can use a social aggregator tool like Juicer.io, which allows for additional features like moderation and custom feeds. For more information you can refer to this guide that covers various methods on how to embed Instagram onto your WebFlow website.