Instagram has come a long way from having to tell people to check out the "link in bio to shop." With the Instagram Shopping feature, you can now get your followers to buy your products without leaving the app.
Not only does this make it easier for people to buy things, but it also makes them more likely to convert.
So if you sell products online, the Instagram Shopping feature is a must-use to boost your e-commerce sales. This guide gives you an in-depth look at how you can make the most of it for social commerce.
Let's get started.
Also Read: A complete guide on Instagram feed embed process
What is Instagram Shopping?
Instagram Shopping is a feature that lets you tag your photos and videos with relevant products from your catalog. When someone taps on the post, the tag will appear with the product info, such as name and pricing.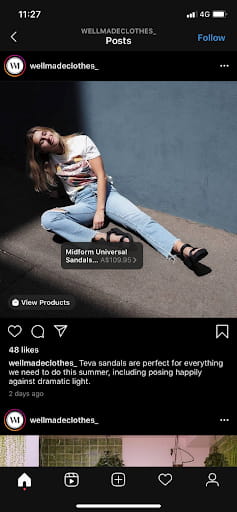 Tapping on the tag opens up a dedicated product page within the app. If they decide to buy it, the "View on Website" button will take them to the website product page.
Retailers in the U.S can even get the Checkout on Instagram feature. So, instead of directing people to "View on Website," you can let them "Add to Bag" right within the app.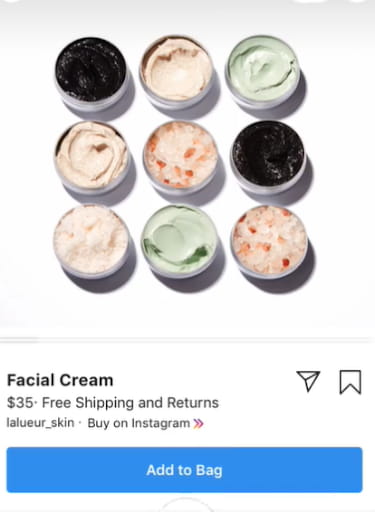 Instagram Shopping works across the app, so you can use it in your Stories as well.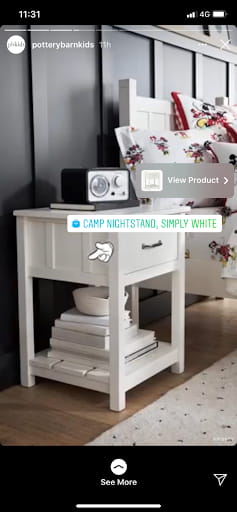 How to Set Up Instagram Shopping
You've seen how Instagram Shopping works and how social commerce could have an impact on your bottom line. Now it's time to find out how to set it up and make the most of it for your business. Here's what you need to do:
Step 1: Double-Check Eligibility
Instagram Shopping isn't available for every business that wants to use it. Check out the eligibility criteria for Instagram Shopping below:
You should be selling physical products.
Your business should be located in one of the supported markets.
Your Instagram account must be a business account.
It should fully comply with the Facebook Commerce Policies. Don't forget to link your account to a relevant Facebook page.
Step 2: Connect to a Facebook Product Catalog
Next, you'll need to connect your Instagram account to your Facebook product catalog. To do this, you have two options:
Using the Catalog Manager – You can use the Facebook Catalog Manager to connect your Instagram profile to an existing catalog or create a new one.
Using an E-Commerce Platform – To simplify things, you can also connect your Facebook Catalog to your Instagram using a supported e-commerce platform. This is a great option if you're already using one of the Facebook partner platforms such as Shopify, BigCommerce, etc.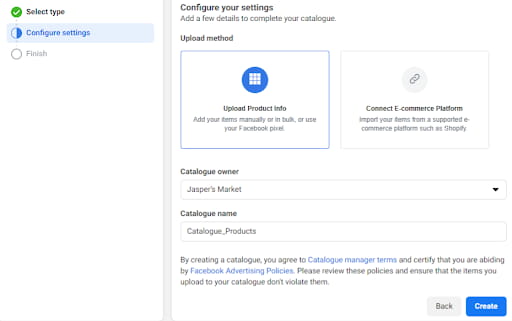 Step 3: Sign Up for Instagram Shopping
Next, you'll have to submit your account for review before you can start using Instagram Shopping. Go to your "Settings" and under "Business," select "Sign Up for Instagram Shopping." Follow the steps you see on the screen before submitting your account for review.
Once approved, turn on the "Shopping" option under your "Business" settings to start using Instagram Shopping.
Step 4: Create Your First Shoppable Post/Story
Now it's time to create your first shoppable post or Story.
Here's how you can add product tags to your feed posts:
Select a photo or video to upload and add all the necessary details as usual such as caption, filters, etc.
Tap on the new "Tag Products" option under the "Tag People" button.
Select the product you want to tag in the photo. For videos, you'll see a tray that automatically displays the products appearing in your video. Just select the products you want to tag from this tray and you're good to go.
For image posts, enter the product name in the search box and select it once it appears. You'll be able to tag up to five products in a single image or video post.
For Instagram Stories, you'll have the option to add product stickers to make them shoppable. Here's how to do it:
Select a photo or video to upload.
From your sticker tray, select the product sticker option.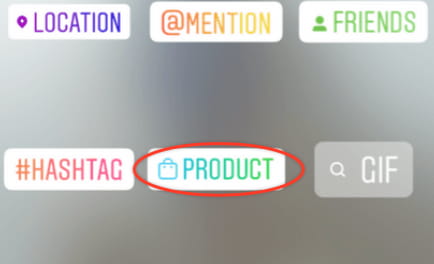 Select the product you want to feature in your Story.
Place the product sticker where you want it to appear. Unlike with feed posts, you can only tag one product per Story.
Step 5: Measure Your Results
Once you've created your shoppable posts, it's necessary to measure their impact on social commerce. You can get the performance data for your shoppable posts under the Insights tab. Besides the usual metrics such as reach, impressions, and likes, you can also measure product page views per product tag.
You can further expand on these insights using third-party Instagram analytics tools. The goal is to uncover additional insights not available with the native Instagram analytics such as sentiment and social campaign ROI.
6 Tips to Get More Out of Instagram Shopping
Setting up Instagram Shopping is only half the work done. You also have to keep looking for ways to better use the feature to boost your e-commerce sales. Here are a few tips and best practices to help you get more out of Instagram Shopping:
1: Use Stunning Visuals
At the end of the day, Instagram is still a visual platform, and stunning images and captivating videos still win. So to get more out of Instagram Shopping, you need to combine the feature with visuals that inspire your audience.
You could experiment with different color combinations, filters, and special effects to see what works best. Notice how Kate Spade New York uses an inviting table setting, complete with food, in the following shoppable post.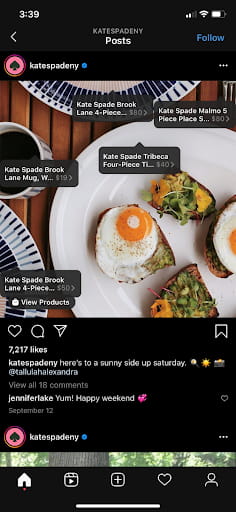 Here's another example from Lowe's. Paying attention to merchandising and details should be essential to all your posts, and more so with your shoppable posts.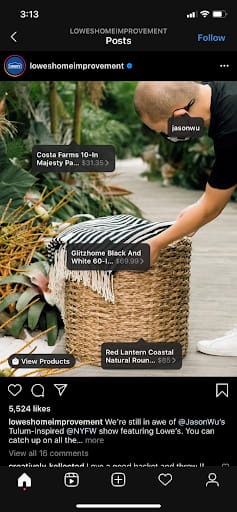 2: Improve Visibility with Hashtags
Hashtags are the key to nailing Instagram SEO as they significantly improve your chances of getting discovered. When you use relevant hashtags in your Instagram shoppable post, it'll show up in searches for said hashtags.
Plus, you also improve your chances of showing up on the Explore page. And the Explore page sees visits from more than 250 million Instagram accounts each month. Not only that, it even has a separate "Shop" tab where your shoppable posts will show up for users in the consideration stage.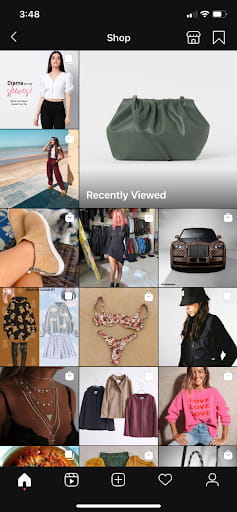 Use descriptive hashtags that describe key details about your product such as material, design, category, and so on. For instance, #veganleather or #leatherboots would be excellent hashtags for a shoppable post about vegan leather boots.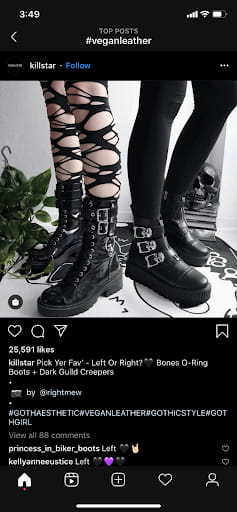 3: Run Ads with Shoppable Posts
Instagram Shopping could help you get more out of your Instagram ad campaigns. This is because shoppable posts help move prospects smoothly down the conversion funnel. So make sure you occasionally run Instagram Shopping ads that target relevant non-followers.
4: Experiment with User-Generated Content
Consumers are 2.4X more likely to find user-generated content (UGC) authentic compared to brand-created content. And 79% of people say that UGC has a significant impact on their purchasing decisions. So consider turning UGC into shoppable posts – with full permission from the creators.
Experiment with a few high-quality user-submitted photos that clearly highlight your products. And see how well they manage to drive sales for your e-commerce store.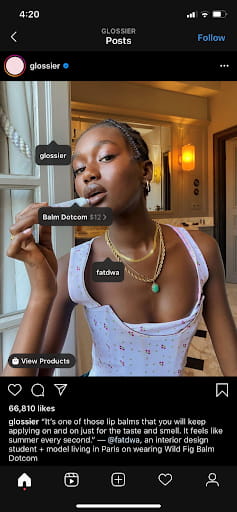 5: Show Your Products in Action
Win over people's trust by sharing posts that show your products in action. You could share videos that show what your product can do or what it looks like in real life.
This helps people get a better sense of what they can expect, making them more likely to convert. Tutorials, how-to's, and demos are some excellent ways to show your products in action.
See how Bissell shares a fun, shoppable video demonstrating what a certain product can do.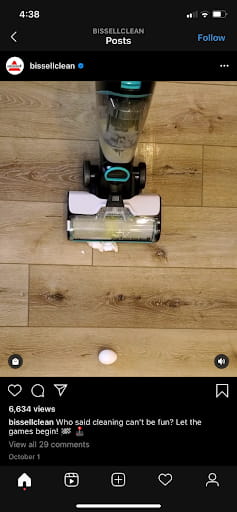 6: Keep Tracking and Optimizing
Experiment with different types of photos, product placement, color schemes, post timing, and so on for your shoppable posts. Then measure the results to see which types of posts tend to resonate with your audience the most.
Make the most of your Instagram Analytics tool to measure your campaign ROI as a whole. Also, keep track of the performance of individual posts and Stories in real-time. This will give you enough insights to make improvements and boost the impact of your Instagram Shopping campaigns.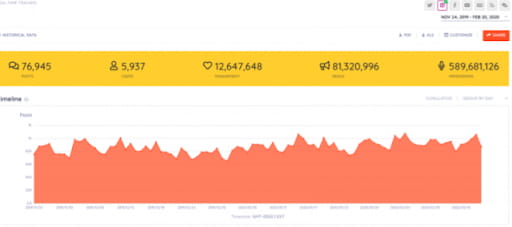 Sell More with Instagram Shopping
The Instagram Shopping feature removes unnecessary steps from the conversion funnel and improves the user experience. It is an invaluable tool to increase sales – and a definite must-have for e-commerce businesses.
At the same time, you need to put in the work to make this feature work in your favor. So make the most of the tips and best practices given above to boost e-commerce sales with Instagram Shopping.
Related: