Love them or hate them, we all can agree that hashtags are here to stay. Over the past decade, hashtags have become an integral part of the social media landscape.
Originally just catchy phrases at the end of social media posts, hashtags have become a valuable tool that enables brands to expand their reach and engage new followers.
Today, just about everybody on social media sees hashtags.
Whether following a popular influencer on Instagram or reading a post from a favorite brand on Facebook, you probably will see a few hashtags at the bottom of the post. Sometimes the hashtag section of a post may even be longer than regular text.
Instagram, Facebook, Twitter and other social media platforms function as built-in social media aggregators that allow users to search for any type of hashtagged content imaginable.
Users simply enter the # symbol followed by their search term and all content that includes their hashtagged search term is neatly displayed in search results.
As a brand trying to expand its audience, hashtags function as an optimal connector to potential followers interested in your products or services.
So, you just add a # symbol and a few words at the end of your Instagram posts and you instantly multiply your engagement tenfold — sounds pretty easy, right?
Well, not exactly.
It takes time, money and precision to create the right social media campaign with the right hashtags.
Choosing the best hashtags for your social media campaign isn't rocket science, but it does take some research and big picture strategy if you want your campaign to be successful. Spend some time fleshing out the nuts and bolts of your campaign and strategizing how hashtags can enhance it.
Do You Really Need to Be Using Hashtags?
Let's take care of this one right away.
Yes, your social media campaign absolutely needs to be using hashtags!
Without hashtags, your posts will only be seen by your followers. The chances of increasing engagement without hashtags are slim — not zero, but close.
If engagement metrics don't increase, it's highly unlikely you will reach your campaign goals — resulting in a campaign that falls short of expectations.
Finding the right hashtags can sometimes be tricky, but knowing that hashtags need to be part of your campaign is very straightforward.
Approach your hashtag research with some intentionality and you will be able to choose the best hashtags for your campaign.
How Do You Choose the Best Hashtags for Your Instagram Campaign?
Everything you need to select the right hashtags is a few clicks and keystrokes away. Here are seven tips that will help you choose the best hashtags for your Instagram campaign:
Do Initial Market Research
Before digging too deep into your hashtag research, brainstorm key terms and ideas that fit with your campaign. This gives you a rough idea of the type of hashtags that you might want to use.
Your list doesn't need to be perfect (if it is, don't bother reading the rest of this article!).
Now that you have a few preliminary ideas, put together a list of influencers who you might be able to learn from. Influencers in just about every industry have carved out valuable Instagram real estate where they connect with their followers.
The most successful influencers have their hashtag strategies optimized to maximize growth and engagement.
Look at the type of content that top industry influencers are sharing and how they're using hashtags. This is a quick way to get a sense of what types of hashtags are working in your industry.
(For more information on influencer marketing, check out Sprout Social's guide.)
Utilize Instagram Hashtag Tools
Instagram search makes in-app hashtag aggregation easy to navigate. Start by searching for a hashtag that you are considering.
Instagram allows users to display top posts first or sort by date. Most people browse top posts — which makes competing for prime real estate that much more cutthroat.
For example, if you search for #optoutside, your results will look something like this: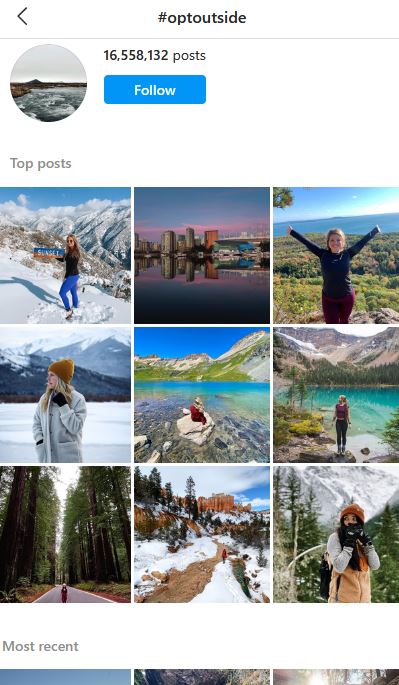 At the top, you'll see your hashtag and the number of posts including it. You can see that #optoutside has been used over 16 million times — meaning a lot of people are regularly including the term in their searches.
From here, you can click on top performing posts and analyze their captions: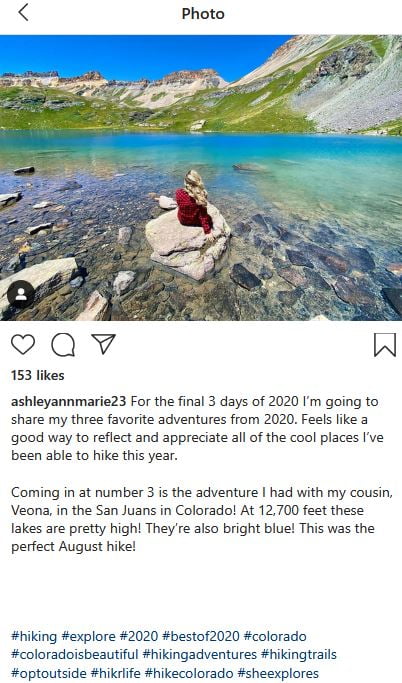 From @ashleyannmarie23's post, you can see that #optoutside is often accompanied by related hiking hashtags. Scroll through a few of the top posts and you will quickly spot trends and identify other hashtags that might be better for your purposes.
Remember that the Instagram algorithms are very complex and personalized based on a wide array of factors. Different users will see different top posts based on their interests, location and other variables in Instagram's secret algorithmic formula.
For a popular hashtag like this one, scroll a ways down and make sure you review a diverse sample size of posts.
Lastly, remember that Instagram content never stops — people are posting 24/7/365. Check back a few times to see refreshed content and broaden your scope.
Use Third-Party Aggregator Platforms
While researching through Instagram search does elicit valuable insights, basing your campaign off in-app search findings alone is risky. Instagram algorithms are so good at personalizing content that your research results may vary differently if you go through the same process from a colleague or family member's Instagram account.
Third-party aggregators use similar content curation algorithms to analyze hashtag trends on a macroscale. There are lots of free and affordable third-party aggregators out there. Evinex has a list of 40 options.
Picking a couple of third-party tools that you like is an easy and objective way to monitor the ebbs and flows of hashtags in your niche. Juicer's Instagram aggregator is a great tool to help you find the best hashtags and then embed Instagram hashtag feed on website with custom styling.
Think Outside the Box
There are some very cliche hashtags on Instagram. #love has been posted on Instagram nearly 2 billion times.
No matter how brilliant your campaign is, you're probably going to be disappointed if you expect #love to transform your business (hopefully it transforms other parts of life!).
Try to develop some unique hashtag ideas specific to your brand. Barkbox, an e-commerce vendor that sells monthly treat packages for pets, has run some brilliant campaigns over the years.
They coined the #barkboxday hashtag when offering a signup promotion a few years back. People, dogs and cats alike loved Barkbox Day so much that they use #barkboxday year-round.
When monthly treat packages arrive or pups love their treats, the #barkboxday hashtag goes hand in hand (or should we say paw in paw?) with cute dog photos across Instagram.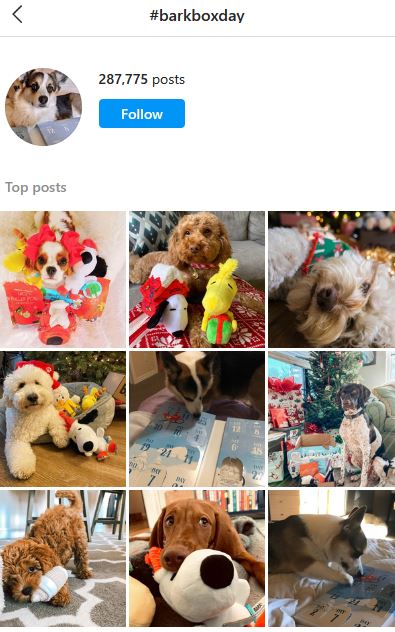 adorable
Stay True to Your Brand
While Instagram is a great place to experiment with new messaging strategies, it's important to always stay true to your brand. Deviating too far from the core values that were founded on is a surefire way to alienate your followers.
For example, artists need to be particularly thoughtful when it comes to their Instagram strategy. There's a fine line between being innovative and distinct with your content while also maintaining consistency with your post style and hashtags.
Jeremy Elkins, fractal burning and epoxy resin artist and founder of @untreatedart, shares his spectacular creations on a regular basis:
He uses a mix of the same core hashtags (#epoxy, #resinart, #furniture, etc.) and unique identifiers (#teal) in each post. His art speaks for itself and his deliberate hashtag strategy ensures that people searching for #epoxy or #resinart will come across his work: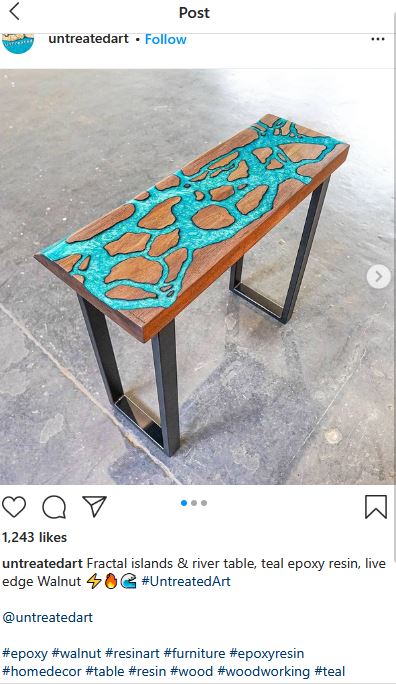 Assess the Overall Landscape
When done right, your Instagram campaign can be a huge success that expands your audience, drives traffic to your site and leads to more sales.
But what happens when it goes wrong? Needless to say, it can be a disaster.
Take a minute to remember that Facebook post that made you squirm, that Super Bowl commercial that caused national outrage or that botched announcement that caused a company to fold.
We all remember a few of these moments for all of the wrong reasons.
The one common thread across all of these debacles is that they were avoidable!
With risk management protocols and careful analysis of implications, you should be able to nip disasters in the bud and avoid going down the social media crisis management path.
Carefully analyze each word and think about demographics that might take issue with any part of your message. Have multiple people review the plan and content copy before posting anything.
Remember prior PR nightmares and double- and triple-check to ensure you aren't about to be the next edition.
This may seem like overkill, but it's a necessary step. You don't want to be responsible for explaining your rationale behind the Susan Boyle album party #susanalbumparty hashtag (read the hashtag twice if you don't get it).
Be Precise and Succinct
Just like when writing prose, accuracy is crucial. With hashtags, the repercussions of a typo are perhaps even more consequential.
Suppose you are posting a picture at a National Park and intend to use the #nationalpark hashtag, which has been used over 7 million times.
But, your finger slips and you accidentally post #nationalpakr, which has been used a whopping 18 times.
In one case of too speedy thumbs and lackluster proofreading, you've negated all amplification potential of your spectacular National Park picture.
In addition to scrupulous proofreading, it's wise to keep your hashtags clear and concise. Shoot for 20 letters or fewer. If it's a little longer than this, that's alright, but remember how hashtags amplify your reach. #bestnationalparkintheusa is a double whammy — difficult to read and unlikely to reach new followers.
Don't get too cute with overly complicated hashtags — #grandcanyon and #nationalpark will do the trick here.
There's a hashtag for everything, from highly specific wedding hashtags to large user-driven hashtags- collect them all with Juicer.