Most on-campus student organizations at colleges and universities have little supervision, if any, from professors or other academic professionals. These organizations and clubs are usually run almost entirely by a group of college students. Some students are familiar with the responsibilities of running an organization while other students experience the weight of budgeting, marketing, coordinating, and growing a student organization for the first time while attending university.
Managing an on-campus student organization while also tending to a full-time class load can be a tremendous, time-consuming extra burden for some students. Luckily, there are many ways that students running on-campus college organizations can ease the responsibilities of student organization marketing.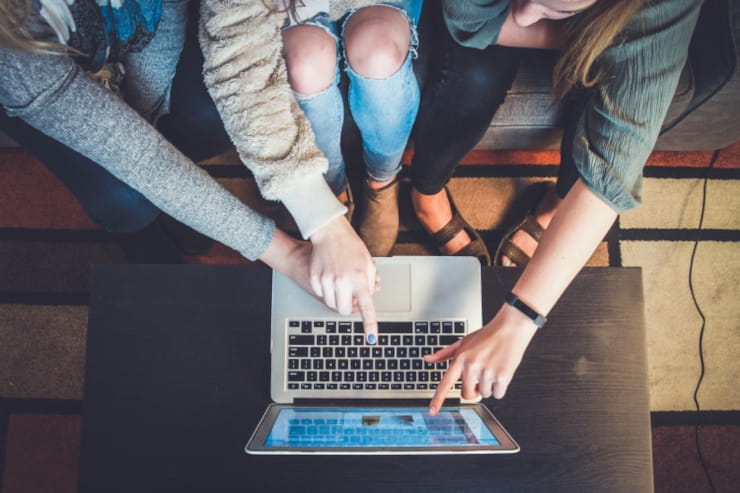 There are many minimal effort ways to market promotional campaigns about an on-campus organization especially using social media marketing. Not only are there ways to automate social media marketing, making it less time-consuming than other forms of marketing, but it is also one of the best places to reach the target audience of an on-campus student organization. Just to put it into perspective, a study on social media habits of university students conducted by the University of New Hampshire found that 96 percent of all university students use Facebook on a typical day. That's a 96% chance to be seen by your target audience!
We've put together some of the best on-campus student organization marketing tips that will help students balance the workload of classes and club management more easily and effectively.
5 of the Best Social Media Marketing Ideas for Student Organizations
1. User-Generated Content
Social media is one of the best ways to find user-generated content from other students. Students who are members of your organization are already posting videos and images at your club events; all these posts need is a little guidance. By creating a hashtag for your student organization and reminding members to use the hashtag and your club's social media handle, you can organize these user-generated social media posts in a way that is easier for other students to find and identify with your organization.
Another way to gather user-generated content on social media is by holding a contest. Contests that are designed to aggregate user feedback or user submissions about the student organization or club are the perfect way to incentivize students to contribute to the organization's library of user-generated content. For example a student organization could have a contest where they submit pictures of themselves and their friends getting involved with an activity that is important to your organization. If you do decide to run a social media contest to collect user-generated content, don't forget the prize. It doesn't have to be anything too flashy; usually, an Amazon gift card can go a long way toward motivating students to participate.
2. Aggregating Social Media Content
There are a number of social media aggregator tools that will automatically pull all the social media posts from various social media networks and populate them in one beautiful social media feed. This way, your club can have a singular place prospective students can easily view all of the social media posts from your student organization. There are many free social media aggregator tools to choose from, so you don't have to harm your organization's budget to have access to these wonderful resources.
Social media aggregators aren't just for collecting social posts from your student organization. These can also be helpful tools for following other student organizations to learn how they are marketing on social media, identify opportunities to partner with other clubs, or to keep track of what is happening on campus. Knowledge is power and the better understanding you have of other student clubs and trends on campus, the better equipped your organization will be to succeed.
3. Social Media Automation
One of the most appealing things about social media marketing is that there are countless ways to automate the marketing process. Using automation tools like IFTTT and Zapier, your student organization can automate the process of scheduling social media posts, sharing posts on multiple social media networks, recording social media engagement such as replies and comments from other students, and much more. With social media marketing automation, on-campus student clubs can save time spent on marketing tasks.
Some example of using social media marketing automation in your student organization are:
Automating all posts to Instagram to also post on other social media networks like Facebook and Twitter at the same time.
Making sure that any time you update your organization's featured image on Facebook that the image also updated for other social networks.
Easily archiving any social media posts or comments to your organization's account in a document for reference and following up with any questions students ask.
Automatically saving any images from your social media posts in an easily accessible location such as a Google Drive folder.
Collecting the information from any email receipts for the organization in a spreadsheet.
Using a calendar notification to silence your phone when you start a club meeting to prevent distraction and disruption.
4. Advertising on Social Media
The budget of student organizations is usually quite small, but if an on-campus organization was looking to advertise online, social media marketing is one of the more affordable ways to do it. Social media advertising is also much easier to track and measure success compared to more traditional forms of advertising and marketing.
In more traditional advertising tactics such as using fliers, radio ads, and participating in your school's public broadcasting network, aren't able to provide you with valuable metrics such as student impressions, engagement, and conversions. But all of these traditional advertising strategies usually take as much or more time, money, and effort as advertising on social media does.
5. Social Media Events
Taking advantage of online events on social media and the social media event listings for non-virtual events is a must for university clubs and organizations. Virtual events are great, especially for encouraging attendance from students with a busier schedule who need more flexibility. In-person events are also crucial for the college experience and using social media enables your organization to track RSVPs, allow students to effortlessly share the event with friends, and publicize the event in relevant online communities. Student organizations should also consider adding a way to virtually attend any in-person events whenever possible.
One of the reasons having a virtual event can be so effective for student organizations is that most full-time college students are very busy. A virtual or online event gives students the flexibility to attend from their dorm room while they're studying or doing laundry. And if they can't make it because of a schedule conflict such as class, work, or another club meeting, they can watch the event at a later time when they are able to do so.
Learning how to use social media to market an organization in a more efficient and effective manner is a crucial skill for roles after graduation. Many business industries (such as marketing, hospitality, and political companies) would be thrilled to hear about how your student organization learned to save money and time marketing your on-campus club to other students.
Managing and growing a student organization doesn't have to take time away from your studies. By incorporating many of the social media marketing ideas for student organizations listed above, your on-campus organization can continue to grow and thrive without demanding as much time from the officers of the organization.