Want to kick things up a notch for your business' social media campaigns but lacking inspiration? We understand where you're coming from!
Now that social media is a primary staple of most brand's marketing efforts, each year the world seems to up the bar for what constitutes a grade-A social media campaign. These days, it's not enough just to keep your social media accounts active – it's time to make social media work as part of an overall company campaign whether your goal is to promote a new product, spark social change, raise awareness about an issue, or publicize a new company announcement!
Start planning your 2020 social media campaign by taking inspiration from the following brands' incredible work this year thus far.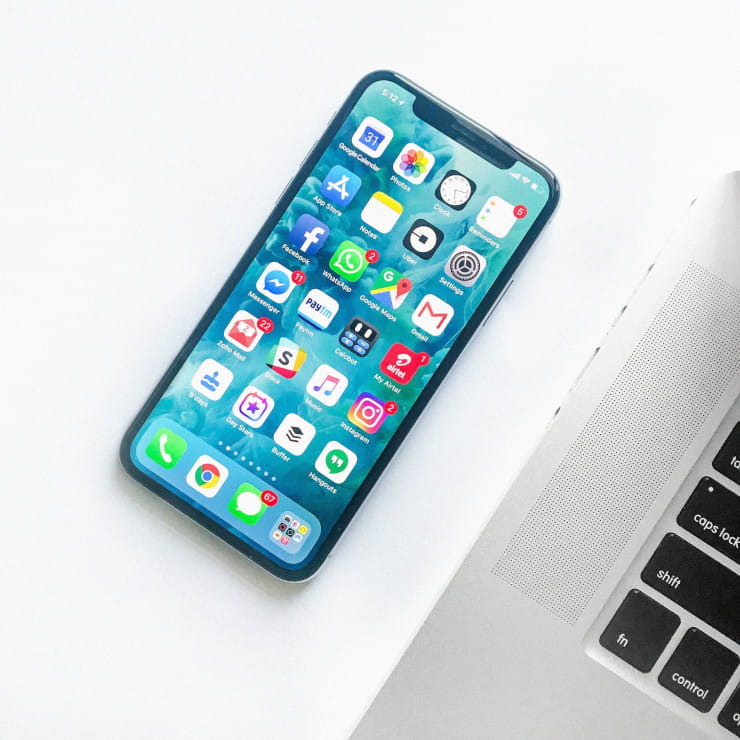 The Best Social Media Campaigns Are: 360 Experiences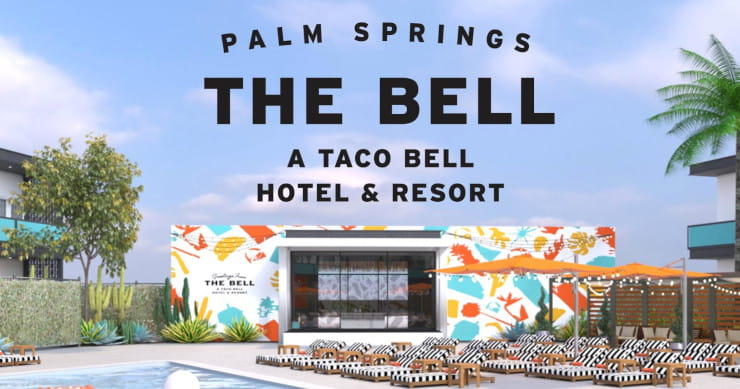 For some brands, a killer social media campaign means you go big or go home. Taco Bell is scheduled to do just that with The Bell: a Taco Bell Hotel and Resort, a pop-up hotel that will make its debut in Palm Springs in August 2019 for an exclusive 4-day period. The hotel features amenities such as a pool area with special cocktails (including the signature spiked Baja Blasts currently served at Taco Bell Cantina locations), a spa with Taco Bell branded nail designs and hair styles, 24/7 Taco Bell room service, and of course, plenty of trendy, branded spots to snap some photos for Instagram.
The best part about this experience is that rooms are fairly affordable- starting at $167, however there are only 70 rooms total meaning they're sure to go fast! Taco Bell has been promoting their new pop-up experience heavily in advance, priming potential guests and the public to have their phones at the ready to check in on social media once the event occurs. From a marketing perspective, this social media campaign is already primed for success. Piggybacking off existing Taco Bell experiences such as the Taco Bell Cantina Las Vegas location where guests can get married. The Bell hotel and resort takes things to the next level and immerses guests in a multi-day, 360 degree experience that they'll never forget. The unusual concept will attract awe and attention from the rest of us and social media is sure to be overflowing with Taco Bell content surrounding the occasion.
While putting together a marketing event of this magnitude isn't attainable for all brands, it carries important lessons! The first, consumers thrive off of exclusive experiences. It makes them feel special and connected to your brand. This can be scaled by hosting an afternoon soiree or conference, or even hosting small a class or experience in one or a few of your locations. Lesson number two? Aesthetics are powerful! The importance of maintaining a visual space that is cutting-edge, eye-catching, and photo-worthy can not be understated. You'll attract attention before guests even know what they're walking into!
The Best Social Media Campaigns Are: On Demand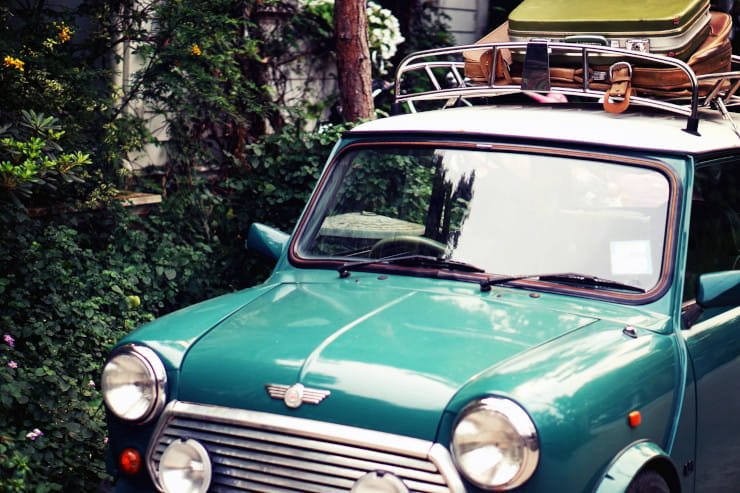 We all know the story of Aladdin and the magic lamp, right? Aladdin rubs the lamp and frees a magical genie who grants him three wishes. The genie will grant Aladdin anything he desires at the snap of his fingers! Aladdin goes on to make some questionable choices, but the alluring part of his story is the power of having on demand gratification of your desires. This concept of getting things "on demand" can be a powerful addition if your brand is looking to craft one of best social media campaigns. Giving users a discount code, free item, or experience instantly when they participate in your campaign not only delights them, it sets a positive outlook of efficiency and satisfaction that lasts.
An excellent example of a brand that harnessed the power of on demand marketing for their social media campaign is Mini. Though this social media campaign actually occurred at the tail end of 2018, it was too clever not to include in this list! They flipped the idea of visiting a dealership in order to test drive a car on its head and invited users to tweet "#MINIonDemand" and be delivered a Mini to test drive wherever they might be!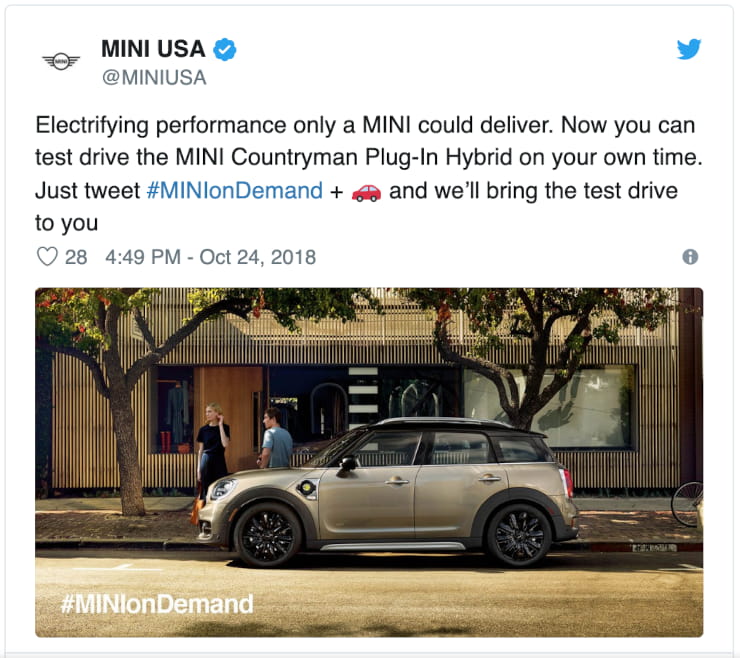 The event was offered to those in Los Angeles and San Francisco for one month (between October 30th and November 30th). All Twitter users had to do was send out a Tweet using the #MINIonDemand hashtag. They would then be sent a link to schedule exactly when they wanted to test drive the Mini Countryman and the address they'd like the car to be delivered to. It was that easy! The campaign proved to be a success, resulting in many happy posts about the experience on social media, like these folks: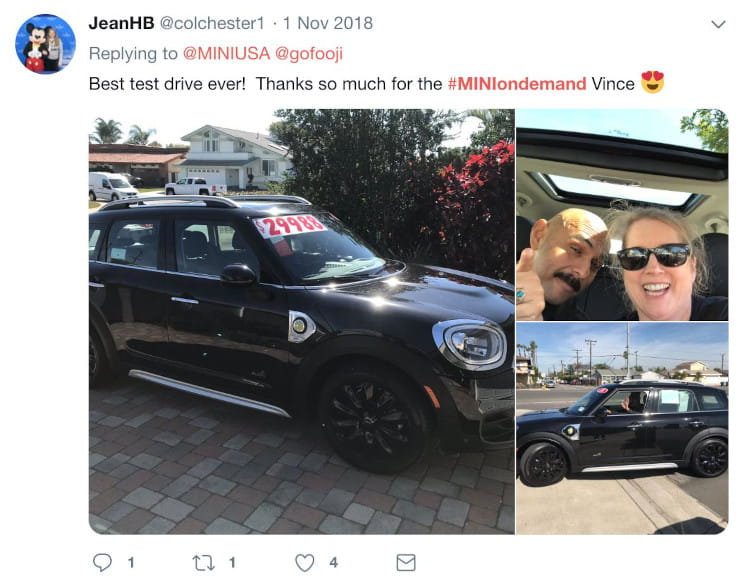 Also Read: Tips for political social media campaigns
The Best Social Media Campaigns Are: Clever and Engaging
Some of the best social media campaigns of 2019 were the ones who kept it relatively simple, but aimed to pack a punch with well-thought out content strategies. One of these brands is Conoco Gas Stations. We know what you're thinking, "how did a chain of gas stations make the list of best social media campaigns?" For an industry that is traditionally pretty black-and-white when it comes to marketing efforts, Conoco Gas Stations took a chance on presenting some unusual and attention-grabbing posts. Here are a few examples: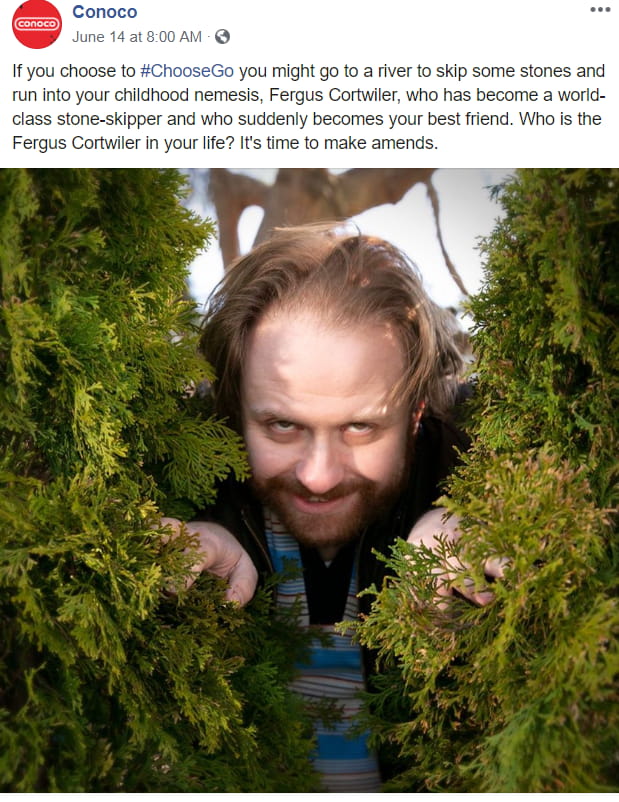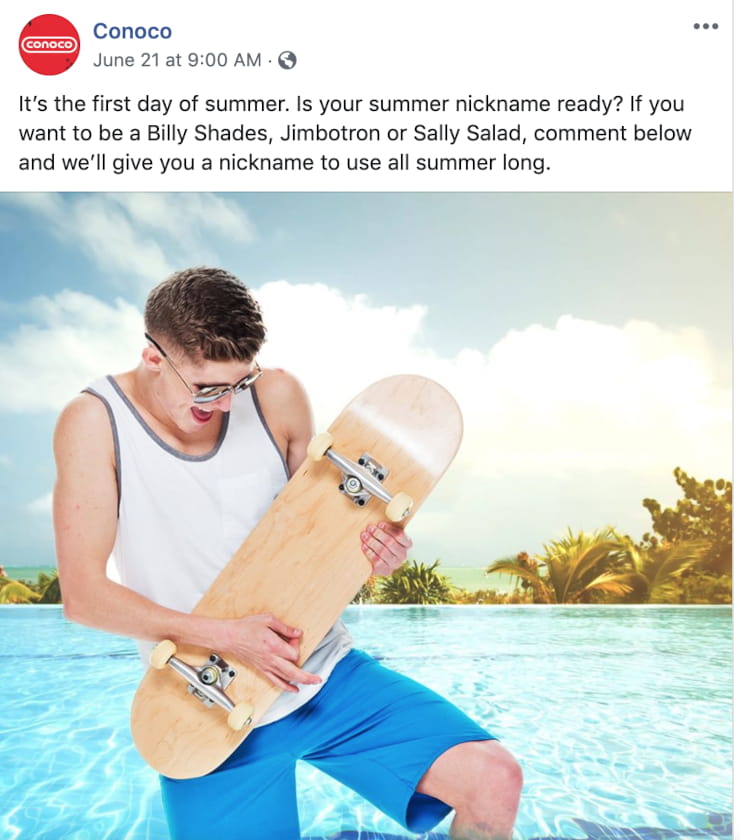 Where Conoco succeeds here is in its combination of wacky, attention-grabbing images with humorous and relatable captions. Many of the posts reference scenarios that readers could easily imagine finding themselves in, spurring laughter and an instant boost in Conoco's brand recognition. The second example image demonstrates one of the lighthearted and interactive posts, where the brand offers to provide unique "summer nicknames" for those who comment. Nicknames like 'Kaley Ukulele' and 'Shannanigans' delighted users and inspired them to tag their friends. User feedback on Conoco's posts include praise such as, "Your absurdist angle is awesome Conoco marketing team and y'all are making material that may one deserve enshrinement into the Hall of Fame for commercials."
Talk about an impressive social media campaign! This example is an excellent one to follow if your brand isn't in a position to spend money on extreme outside efforts (like events, influencers, large-scale photo shoots or video shoots). Social media campaigns can produce wildly successful results based solely around your creativity and ability to capture attention with your words.
The Best Social Media Campaigns Are: Primed to Build Anticipation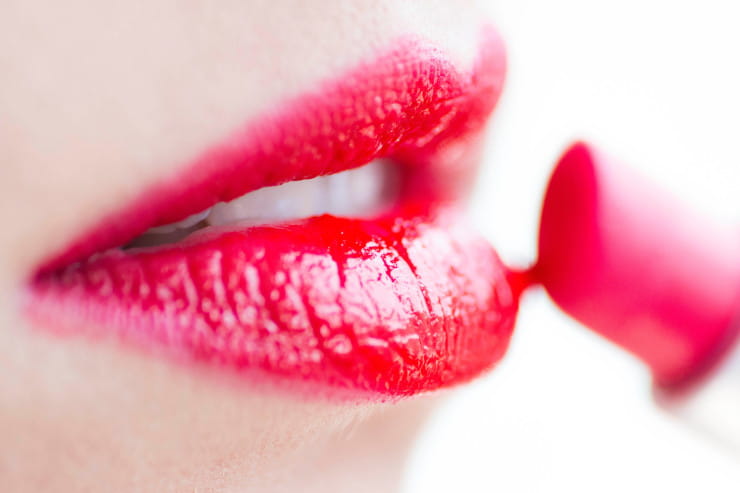 While they may be best known as reality television stars from the popular E! Network show, Keeping Up With the Kardashians, The Kardashian sisters have also developed a shrewd sense for business and marketing, namely Kim Kardashian and younger sister, Kylie Jenner. Both women have developed wildly successful businesses in the fashion and beauty industry. Kylie found success through her "Kylie Lip Kits", series of lipsticks and liners she sells in themed collections. Now known as Kylie Cosmetics, Jenner's company has grown to be worth more than $900 million in only four years. Her original Kylie Lip Kits campaign sold out in exactly one minute after launch. The business has been so successful that Kylie Jenner has achieved the title of youngest self-made billionaire ever.
Part of the reason for her success? She's a social media mogul, frequently producing some of the best social media campaigns in the industry. Her posts surrounding the upcoming collections are highly glamorous and only give away small hints at what customers can expect once the big reveal happens. Much like our Taco Bell example above, Kylie is also a fan of the pop-up experience. She's been known to transform abandoned gas stations into Kylie-themed boutiques where beverage cooling cases host products and the contents of slushie machines are spiked for an adult beverage take on an old classic. Key takeaways from Kylie Jenner's social media campaigns? Build excitement and anticipation around your brand by releasing teasers of upcoming products, behind the scenes content, and making items feel exclusive by releasing product in small batches. Here are some of the responses Kylie's social media campaigns have garnered: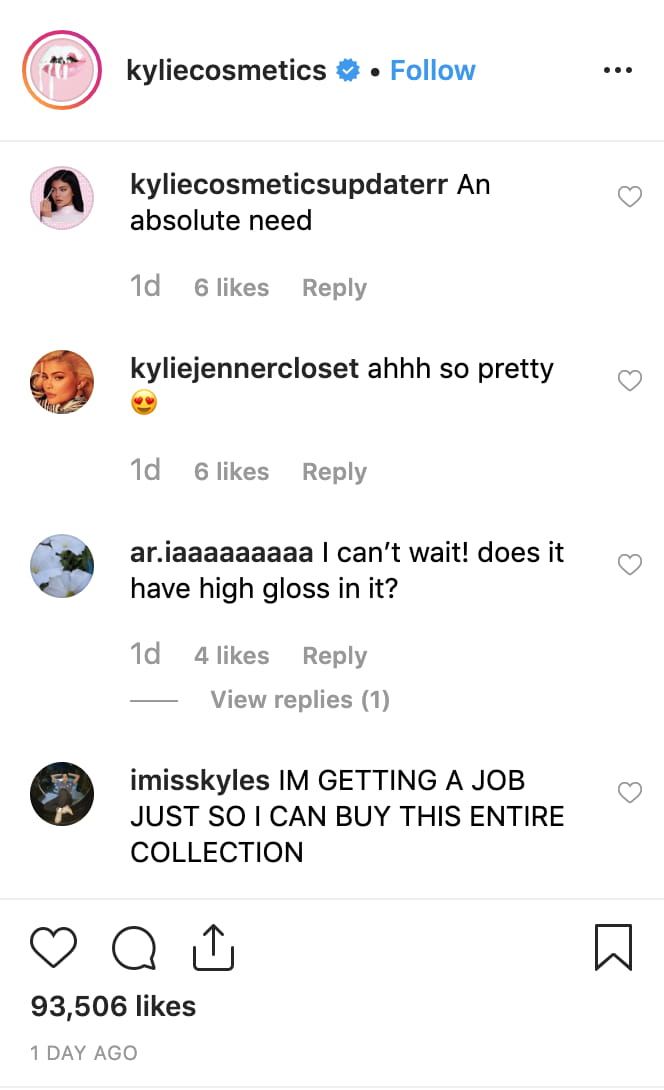 Which of these spectacular social media campaigns is your favorite? Is there a campaign you love that didn't make the list? Let us know in the comments below!