When we search in Google, we are conveniently returned with a comprehensive list of ten social media aggregator tool options, and that's just on page one.
With social media becoming an essential part of business marketing strategies, more and more tools flood the market every day. Alas, not all social media aggregator tools are created equal, so it's important to compare carefully before selecting the best option for your needs.
So how do you choose the right social media aggregator tool for your brand?
Well, we could just simply tell you that Juicer is your best option, but in the spirit of comparing "apples to apples," we prefer to lay out the facts.
This side-by-side comparison chart will break down the differences between two of these social media aggregator platforms: Juicer and TINT.
What is a Social Media Aggregator Tool?
Before we dive into the comparison, let's quickly review what a social media aggregator is and does. A social media aggregator should be a part of your suite of social media marketing tools.
In a nutshell, social media aggregators curate all of your social media posts, videos, images, and hashtags from various social platforms (Facebook, Instagram, Twitter, etc.) into one beautiful social media feed you can embed on your webpages.
An aggregator acts as a social media management tool, and from a single dashboard, you can filter, organize, moderate, and schedule your posts without dealing with any coding whatsoever.
Take a look at Bon Jovi's fantastic Juicer social media feed. All of his social network content is automatically curated and updated on his site giving his visitors a clean, professional-looking glimpse into his social side.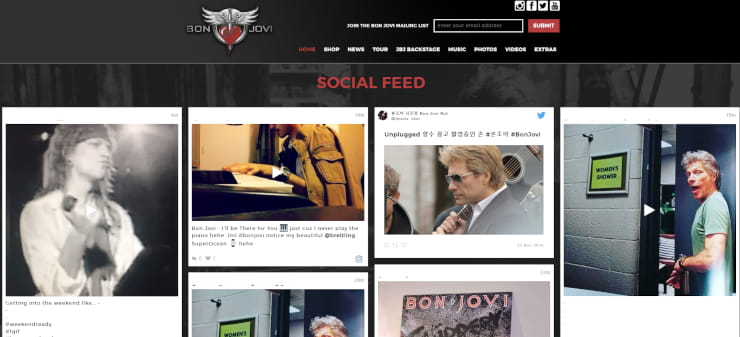 Social Media Aggregator Tools: Comparing Apples to Apples
Integrated Social Media Channels
From marketing managers and small business owners to large advertising agencies, social media aggregators appeal to a wide variety of business and marketing professionals. A good social media aggregator should provide not only the most popular social media platform integrations but a substantial variety as well.
Juicer Social Media Platforms
Juicer's customers range from marketing agencies and mid-sized companies to personal bloggers and struggling musicians. Since our customers interact with followers on a wide variety of different platforms, Juicer strives to make social feed integration a breeze — regardless of where you communicate with your fans.
For those reasons, Juicer has worked to provide the widest variety of social media platform integrations. In fact, Juicer integrates with 16 different platforms:
Facebook, Twitter, Instagram, YouTube, Hashtags, Tumblr, Slack, LinkedIn, Pinterest, Blog RSS, GIPHY, SoundCloud, Flickr, Vimeo, & Yelp
TINT Social Media Platforms
TINT does offer a wide variety of social app integrations at their basic package level. TINT supports the following social media channels:
Facebook, Twitter, Instagram, YouTube, RSS, Public Posting, LinkedIn, Yelp, Tumblr, Google+, Flickr, Google News, Slack, & Spark
However, TINT does not integrate with Pinterest, SoundCloud, or Vimeo.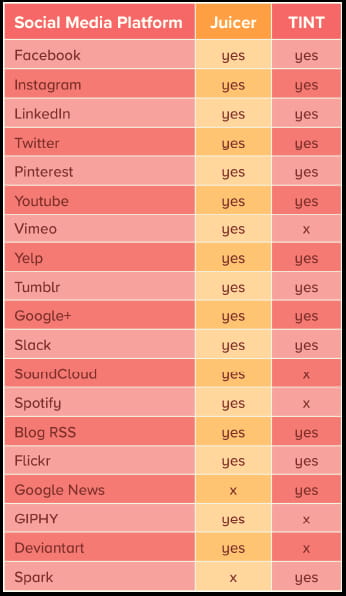 Pricing Options and Packages
If you've stumbled across TINT's pricing packages, then you've probably also tried searching for TINT alternatives. Unlike Juicer, TINT does not offer a free option, and their most basic package costs 5x more than Juicer's Large package.
Juicer's Free Plan
Juicer offers a lifetime free social media aggregator plan you can quickly set up and embed on your website. Our free or Small plan allows you to add two social media sources and updates every 24 hours. Juicer's free social media management plan is perfect for smaller businesses or marketers who only have a few social channels.
TINT has similar features to Juicer, but their cheapest plan starts at $650/month with a $500 onboarding fee. They only offer a 7-day free trial.
Below is a complete breakdown of Juicer's Small plan.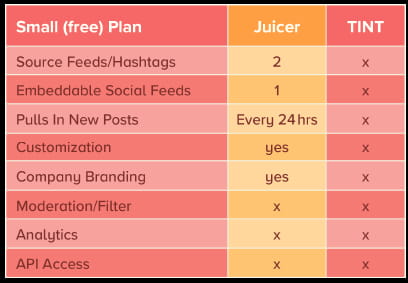 Medium Plan
Juicer's Medium plan adds another 3 social sources allowing you 5 in total. With this plan, you are also provided hourly updates, moderation, and filter tools as well as no Juicer branding on your feed.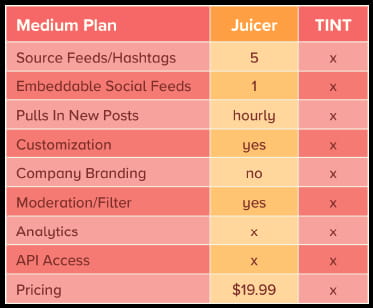 Large Plan
Juicer's Large plan starts at $99/month and is designed for companies or larger agencies that have a wide variety of social media integrations and want frequent updates. The Large plan pulls in new posts and offers analytic features.
For $650/month, TINT's Website Gallery plan offers 10 source feeds, full feed customization, in-feed company branding, and analytics.
Here's a comparison between Juicer's Large plan and TINT's pricing for their Website Gallery plan.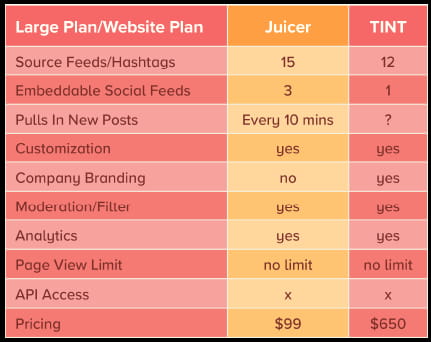 Pricing Customization Options
Juicer's Enterprise Package
If you want even more options, Juicer also offers an Enterprise package which allows you to create unlimited social media feeds.
There is a small initial setup cost, then your customized plan's monthly fee is based on the total number of social sources you use and how often the content is updated on your feeds, so you're never charged for more than you use.
Enterprise is designed for organizations who require more feeds and sources than our normal plans allow and for agencies or other groups whose needs for social feeds are constantly changing.
The Enterprise package is also great for large events where you can display a live social wall that constantly updates your guests' hashtags and tweets. With this package, you are also provided full API access that allows you to completely customize Juicer.
TINT's Enterprise Package
TINT also offers custom package options that can be crafted to meet your specific needs. Custom packages start at $1,200/month and go up to $2,500/month depending on add-ons and tools you select.
TINT reviews for their Enterprise Package generally are pretty high (4.4 stars on G2), but at an entry-level price point of $1,200, you'd expect some top-notch service. While some social media aggregators offer promotional rates, TINT coupons are not available.
Here's a comparison between Juicer and TINT's enterprise options.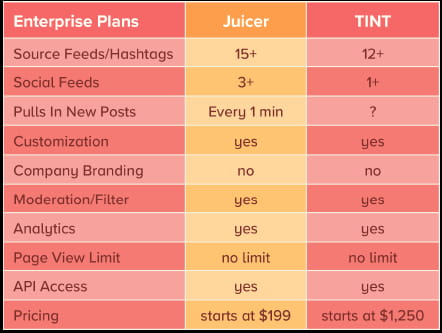 WordPress Plugin
If your website operates on WordPress, Juicer offers a free downloadable plugin. Juicer's WordPress Plugin is 5-star rated and has 10,000+ downloads.
There is no WordPress plugin currently available for TINT but you can click this link to learn more about Juicer's WordPress social feed plugin.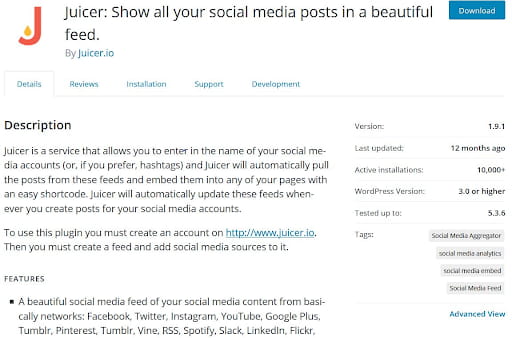 Customization Features
At Juicer, we understand the importance of branding. Customizing the look and feel of your social media feed so that it blends in seamlessly with your website should be one of the most basic features of any social media aggregator tool.
Juicer offers 7 different beautiful template options that you can fully preview, customize, and play around with in the dashboard.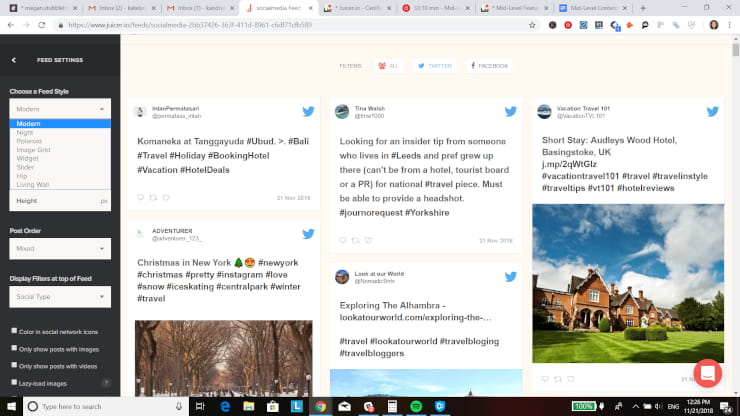 You can also add custom colors, change the interval speed, columns, width, height so integration with your web pages is unique to your site. The free plan shows Juicer branding but any of the upgraded options eliminate that feature. The Medium plan ($19/month) gives you full customization with no Juicer branding.
TINT
TINT provides some feed themes and customization options. Some features include templates, font and color customizations, language options, and popup customizations. However, in their Website Gallery package, TINT branding still shows up in the feed (and their price tag for this plan is considerably high).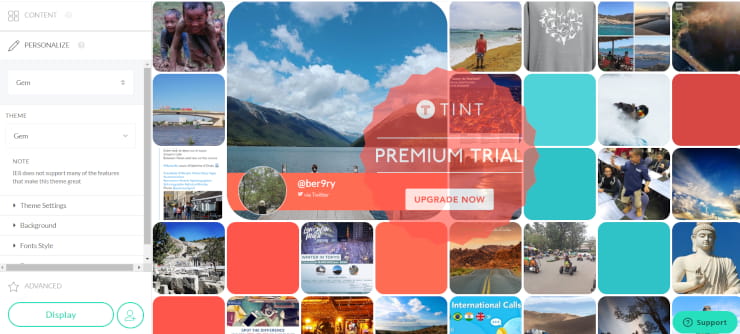 Social media aggregators are the best way to showcase your social content on your website, but they're also a tool that can become expensive quickly if you aren't careful.
If you aren't looking to break the bank but still want a beautiful, feature-packed social media aggregator tool that can be integrated and styled to fit seamlessly into your webpage or blog, Juicer is clearly your best option.
So What Are You Waiting For? Give Juicer a Try!
Juicer is the best social media aggregator on the market. Don't just take our word for it, let us show you!
Sign up for a free Juicer account now by simply entering your email and creating a password.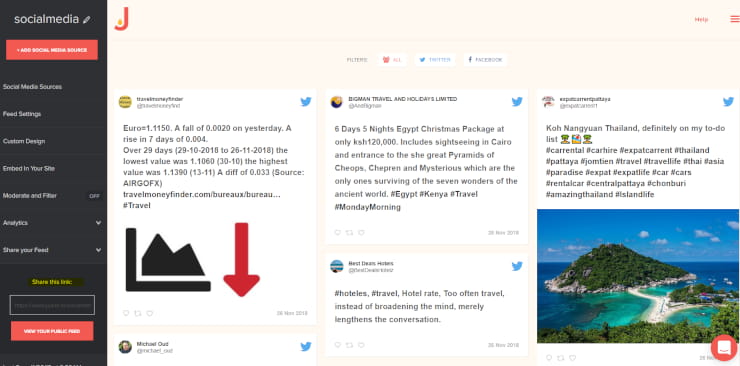 Add your favorite social media feed source and watch as Juicer automatically curates all of your content into the dashboard.
Feel free to play around with the moderation features and customization options. When you're ready, embed your social media feed into your website then sit back, relax, and watch as Juicer brings your social side to life!