Ever been to a wedding, corporate event, or political campaign and been blown away by their social wall? A social media wall can heighten engagement and create a fun and easy atmosphere for any demographic. It may look as if they cost an arm and a leg, as many social walls for websites can be affordable, and oftentimes free, options to spice up an event and make it an occasion to remember.
But what if you want a social wall for your website?
A free social wall for websites can provide the same level of engagement on a less targeted scale. Whereas a social media wall at events can engage an audience in real time, a social wall for a website can pull the best of a brand's social media and display it in real time for viewers who have been brought there by marketing or SEO efforts. This can be a great opportunity to show the best of your brand with content you're already putting out on other outlets. Gather Facebook, Twitter, or Instagram data in one compact place on your website.
A Free Social Wall for Every Brand
With a social media aggregator like Juicer, it's easy to set up a free social wall or live tweet wall for your website. Simply create the social wall in Juicer and use your personalized URL and embed code to embed the wall into your website. It's that easy!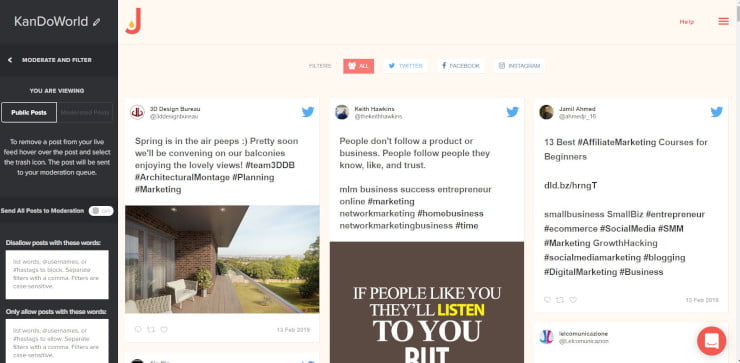 With Juicer's social wall for your website, you can track accounts or hashtags, filter content, and customize the design to fit branding. Not only is a social wall a great visual aid, but it also serves as an information hub for website visitors who are looking for top news in one location. Track relevant hashtags in your industry to become a thought leader, facilitating discussion around what matters most to you and your audience.
How Juicer Can Help
With Juicer's free social wall for websites, you can:
1. Aggregate Social Posts and Hashtags
Right off the bat, Juicer's social wall will allow you to combine social posts across platforms, as well as important hashtags your brand creates or ones integral to your industry. Think of the social wall as an opportunity to show visitors what matters most to your brand. What will you highlight?
2. Use Filters to Personalize Your Wall
Moderate and control what content gets shown on your social wall. Curate what's brand- or industry-appropriate easily through Juicer's backend. Eliminate unwanted content and duplicate posts, presenting a clean face forward to website visitors.
3. Analyze Engagement
One of the best things about the free social wall for websites is the ability to analyze all engagement through Juicer. Your social wall may be sitting pretty, but with this feature, Juicer can help you analyze what it's doing for traffic and clicks as well. How are your social wall viewers interacting with it? Comb through this data to better understand how to get the free social wall working for you.