A social wall, or social media wall, can boost the experience of any modern event, whether it's a networking get-together or a wedding. You may have been to a few events yourself where a projector or screen is displaying a live-stream of tweets, pictures, and posts amalgamated from a brand's social media accounts or an event-specific hashtag.
At these events, patrons and guests can engage with your brand in a new way, by directly contributing to your brand voice and creating fun, customer-focused user-generated content that everyone can experience in real-time. For many events, this could include picture challenges, scavenger hunts, or encouraging reaction tweets and shout-outs from guests.
No matter what your reason for choosing a social wall, the possibilities are endless. But how can you be sure you're choosing the best social wall for your event? With so many options, and different platforms offering exciting features, half the task is just finding a social wall that fits you. We're comparing and contrasting tools with the best social wall features around to help you find what you want for your next event.
Juicer
Juicer is a social media aggregator that brings together simplicity and style in their unique features. Engagement is the name of the game here, as Juicer's features allow for constant analytics reporting to ensure your social wall doesn't just look good; it's performing at an optimal level, too.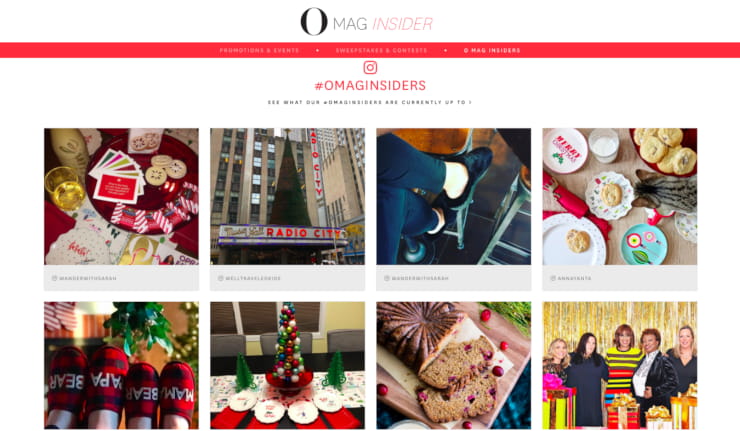 Users can experience Juicer's social wall for free upon signing up, but the paid plans are really where it's at. With a premium plan, users can control and manage social feeds with ease, maintaining brand voice by filtering posts. Depending on the level of plan, you may also gain the ability to refresh hashtags every 24 hours, every hour, or every ten minutes. What's better is that none of these features will cost you a whole lot. Compared to other social walls, Juicer offers pricing starting from $19/month to $99/month, which is nearly half the cost of their competitors.
Our verdict: Juicer provides the best social wall for your money. Sign up for free to get a taste, but take the plunge and register for a premium plan to make your social wall stand out.
Walls.io
Walls.io is a digital content solution that offers social media aggregators, social media walls, and social media moderation, amongst other features to keep your socials tracking in one place. Their aggregator sources content from multiple sources, which is beneficial when you're looking to gather information across all your channels. Their social walls are responsive and feature prominent, customizable themes, such as the fluid theme, the grid theme, the kiosk theme, and more.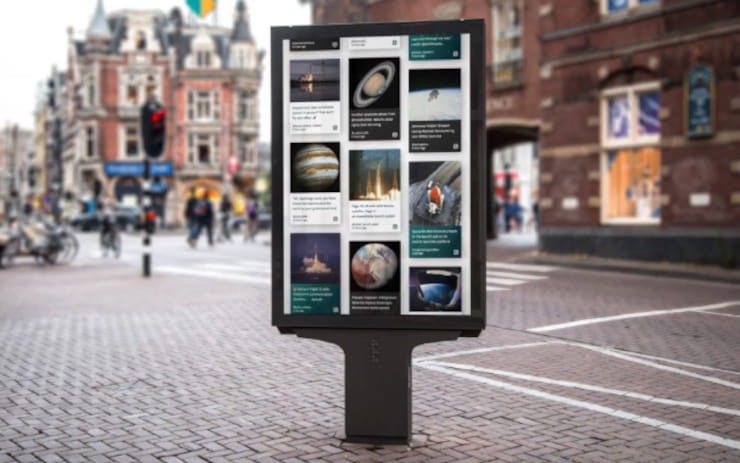 Their prominent feature is the ability to monitor and moderate your social wall. With a strict spam filter, advanced language support, and post looping, the Walls.io social wall provides efficiency and a bounty of design options for first-timers.
Users can look forward to one wall and up to four platforms for free with their basic plan. If you want more than one wall, check out their premium plan for $600/month that
Our verdict: This social wall is great for multiple large events a year. The premium plan has lots of goodies to keep entrepreneurs occupied.
Social Wall
Social Wall is a fully customizable social media wall platform. Users can enjoy multiple designs, themes, and moderation tools in order to create the best social wall for their event. At Social Wall, they have designed their platform to mimic the WordPress backend with advanced administration so that brand managers can easily customize their digital walls and monitor each post.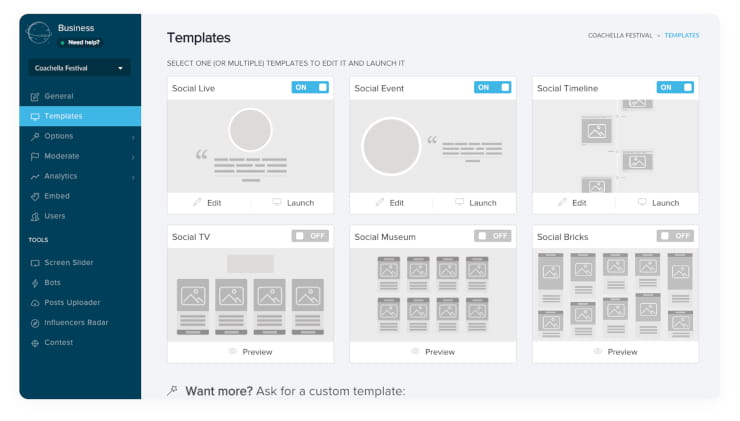 The unique selling point with Social Wall is its exemplary templates. For more templates, users can choose to sign up for their Standard package from €450 or their Business package. Both options require contacting Social Wall for a quote, top tier analytics, and the option to choose the template of your liking.
Our verdict: This social wall is simple-to-use and has great design options. If customizing is your thing, there may be a theme here for you.
Let Juicer help set up your best social wall yet
Sign up for Juicer today to see what our social wall can do for your next corporate or personal event. Juicer is free to try, but our paid options will give you that extra analytics and moderation boost your brand needs.