It's no secret that any successful brand in 2021 needs an effective social media strategy.
Building a connection between your website and social media channels is critical to boosting awareness and driving social media users to your website.
Social media aggregators enable brands to embed social channels on their websites.
There are dozens of social media aggregators on the market — all boasting that they will revolutionize your social media marketing efforts.
When you research options, you'll find popular aggregators on the market. You'll see Juicer, EmbedSocial, Curator, Tint, Flockler, Tagg Box and others — all claiming that THEY are the best social media aggregator for you.
If only we could take each of their claims as fact! Unfortunately, it's inevitable that some of these tools are better than others. Before selecting the best option for your needs, make sure to do a careful comparison of compatible social integrations, prices, customization options, plugin capabilities and more.
Make sure you do comprehensive market research before choosing the best social aggregator for your needs.
So how do you choose the right social media aggregator tool for your brand?
Well, we could simply tell you to pick Juicer, but in the spirit of objectivity, we'd rather put the facts on the table and let you decide for yourself.
This side-by-side comparison will break down the similarities and differences between Juicer and EmbedSocial, two of the most popular social media aggregators currently on the market.

What is a Social Media Aggregator Tool?
Let's quickly review what a social media aggregator does before we dig too deep into Juicer and EmbedSocial's respective specs.
In simplest terms, social media tools enable you to embed your social media content — posts, videos, images, and hashtags from various platforms (Facebook, Instagram, Twitter, TikTok etc.) — into social media feeds that can be customized to meet your marketing goals.
Social media aggregators are a game-changing tool that enables brands to organize their social content in attractive, user-friendly templates on their websites. From one central dashboard, brands can filter, organize, moderate, and schedule their posts without any high-level technical or coding skills necessary.
Oprah Winfrey's O Mag Insider brand uses Juicer for its social media feed aggregation needs. They selected several branded and industry hashtags and Juicer did all the heavy lifting from there. All of their posts and selected hashtags are automatically embedded on their website — giving their visitors a clean, professional, stylish glimpse into their brand and products.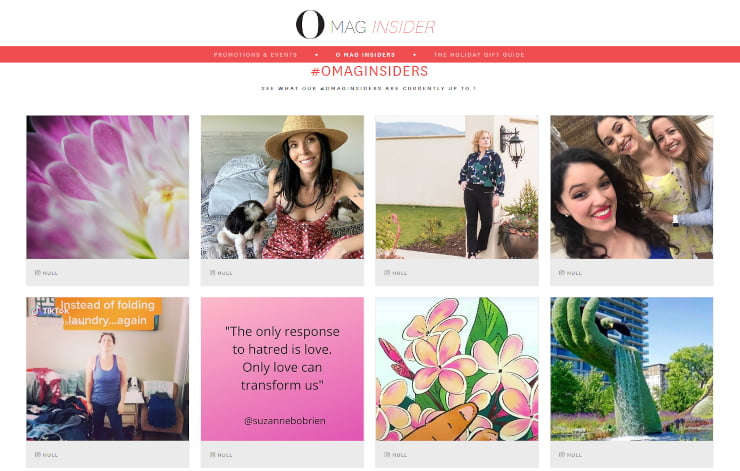 Juicer vs. EmbedSocial: Feature-for-Feature Comparison
Integrated Social Media Channels
Marketers — for small businesses and large agencies alike — utilize social media aggregators to appeal to their prospective customers. Any social media aggregator worth your time and money should be compatible with a wide variety of social media platform integrations. Any average social media aggregator can be a one- or two-trick pony, but integrating a wide variety of platforms gives brands the versatility to showcase their social content from their favorite platforms.
Juicer Social Media Aggregator Compatible Platforms
Juicer customers range from marketing agencies and large companies to personal bloggers and struggling musicians. Juicer customers' needs vary based on the social platforms they use to connect with their readers and fans.
For those reasons Juicer Social has worked to provide the widest variety of social media platform integrations. Juicer currently offers integrations with 16 different platforms:
Facebook, Twitter, Instagram, YouTube, Hashtags, Tumblr, Slack, LinkedIn, Pinterest, Blog RSS, GIPHY, SoundCloud, Flickr, Vimeo & Yelp
EmbedSocial Social Media Aggregator Compatible Platforms
EmbedSocial offers several social app integrations as well. Currently, they offer 6 social media integrations — less than half as many as Juicer.io. EmbedSocial currently supports the following social media channels:
Facebook, Twitter, Instagram, Tiktok, YouTube & Vimeo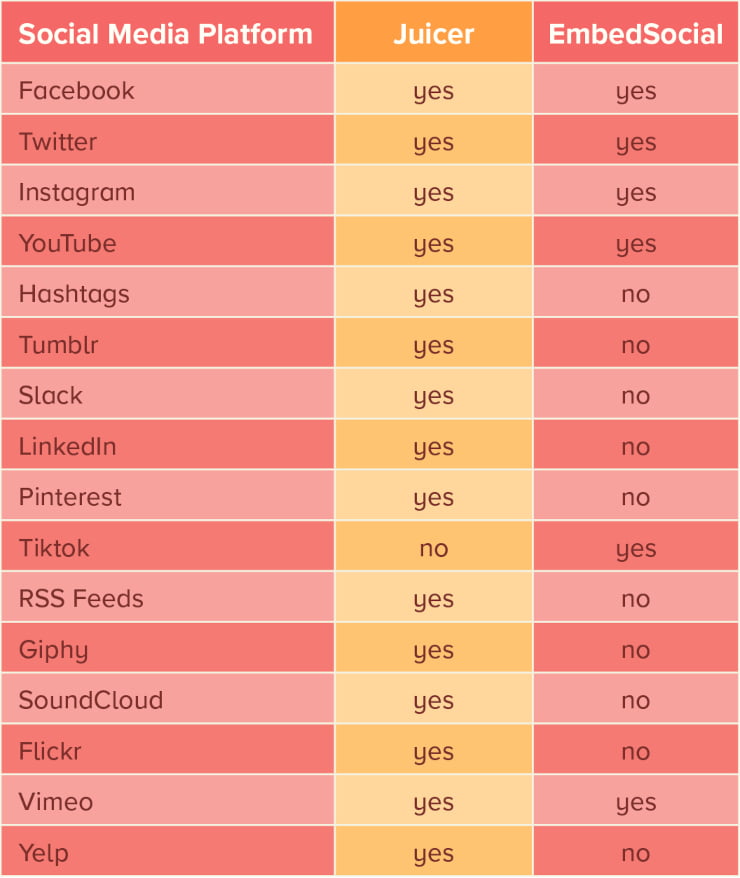 Pricing Options and Packages
Juicer Social and EmbedSocial both offer tier-based pricing packages. They both offer free plans. The plans initially appear similar, but when you dig a bit deeper, you will find some differentiating factors that may influence your decision.
Small/Free Plans
Juicer offers a free social media aggregator plan that you can quickly sign up for without a credit card. Juicer's free or "Small" plan allows you to add two social media sources and updates every 24 hours. Juicer's free social media management plan is perfect for smaller businesses or marketers who only have a few social channels.
EmbedSocial's free plan offers some of the same features as Juicer's — including EmbedSocial's branding at the bottom of the Feed. EmbedSocial's free plan distinctly displays "Powered by Curator" on their free embedded feeds.
The biggest difference is that Juicer's Small plan offers you two source feeds completely free. That means you can embed your Facebook feed and Instagram feed completely free. On the other hand, EmbedSocial requires you to choose one or the other.
Another major difference is Juicer allows users to embed their Twitter feeds as one of their two feeds. EmbedSocial requires users to sign-up for a paid plan if they want to embed tweets on their site.
Below is a comparison of Juicer.io and EmbedSocial's free plans.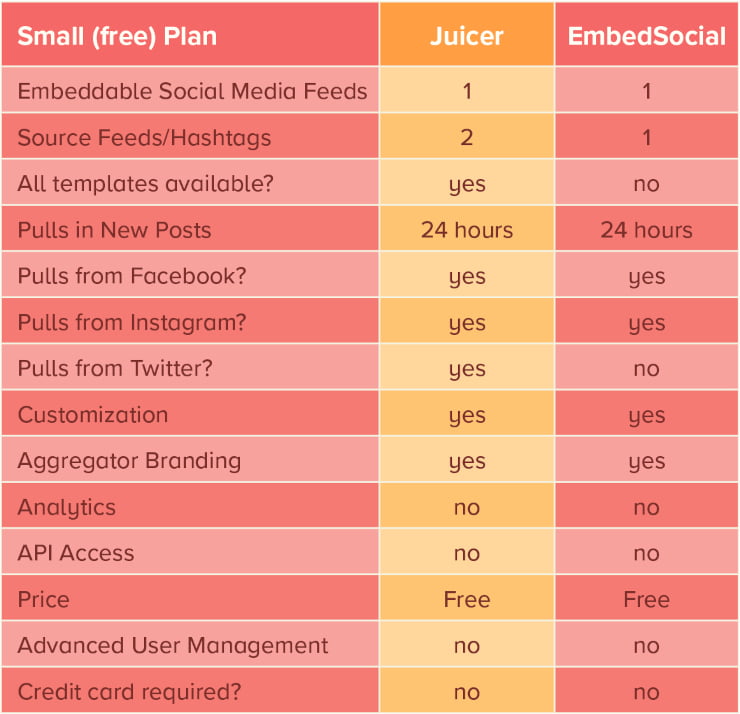 Medium Plan
Juicer's Medium plan adds another 3 social source feeds giving you 5 in total. With this plan you are also provided hourly updates, moderation and filter tools. The small Juicer logo that appears in Small plan feeds is removed as well. Users can automatically prevent or allow posts that contain certain keywords in the medium plan as well.
The Juicer Social Medium plan costs only $19 per month which works out to $3.80 per source feed per month.
EmbedSocial's "Pro" plan updates every 15 minutes, but it only includes two social source feeds. EmbedSocial's Pro plan does include Twitter, but by only allowing two social source feeds, you can't embed Facebook, Instagram and Twitter. The 15-minute updates are a nice perk, but at the expense of including all the source feeds that you want, that perk doesn't seem so great.
EmbedSocial's Pro plan also costs $19, but when you break it down by source feeds, it's considerably more expensive. Each source feed costs $9.50 per month — or 2.5 times the rate Juicer charges.
Over the course of a year, you'll save $68 on a per-feed basis by using Juicer's Medium plan versus EmbedSocial's Pro plan.
Large Plan
Juicer's Large plan and EmbedSocial's Premium plan offer some similar features.
Both plans cost $99 per month. Juicer's Large plan is designed for both companies and larger agencies that have a wide variety of social media integrations and need frequent updates. The Large plan pulls in posts every 10 minutes, 24 hours per day.
Juicer's Large plan also offers advanced analytics features that enable users to track page views and clicks on your feed. This makes it easy to measure the increased engagement on your site in just a couple of clicks. Similar to Juicer, EmbedSocial offers full moderation and filtering options.
EmbedSocial's Premium plan offers up to a total of 15 sources (same as Juicer), but they don't specify how many different feeds can be built. Comparatively, Juicer emphasizes transparency — clearly stating that their Large plan offers 15 source feeds that can be embedded in 3 separate social feeds.
EmbedSocial's Premium plan updates every 15 minutes — meaning four times per hour. Comparatively, Juicer updates every 10 minutes — meaning six times per hour. This isn't a huge differentiator, but if you share content frequently, a few minutes can reduce lag and improve consistency.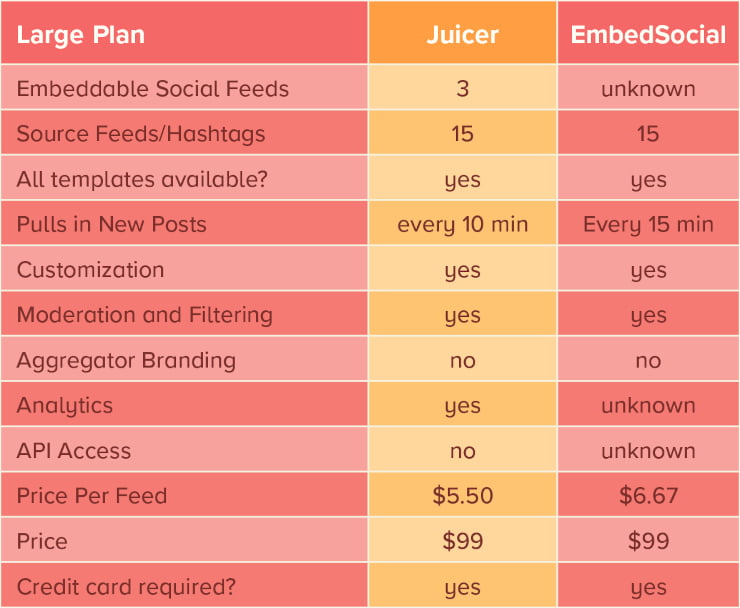 Enterprise Packages
If you want even more options, Juicer Social and EmbedSocial also offer Enterprise packages that allow you to create unlimited social media feeds.
Juicer's Enterprise package includes an initial account setup cost and then you are billed monthly based solely on the total number of social sources you use and how often the content is updated on your feeds.
The Enterprise package is designed for organizations that require more feeds and sources than the Large plans allow. Enterprise packages are recommended for agencies and businesses with constantly changing social feed needs.
If flexibility, adaptability and speed are important for your social media campaigns, an Enterprise package may be the best option for you. Enterprise packages update as fast as every minute and are highly customizable. Use the feeds you need. Never pay extra for overhead that isn't bringing value to your social campaigns.
Juicer's Enterprise package is also great for large events where you can display a live social wall on a big screen that updates instantly as your guests tweet. With live in-person events picking up again, contactless social wall activities are a great way to make use of technology and engage your audience in a safe, socially distant way.
Both Juicer and EmbedSocial's Enterprise packages have full API access that allows your dev teams to completely customize your feed designs.
EmbedSocial offers custom enterprise packages but does not list any pricing tiers or other key details.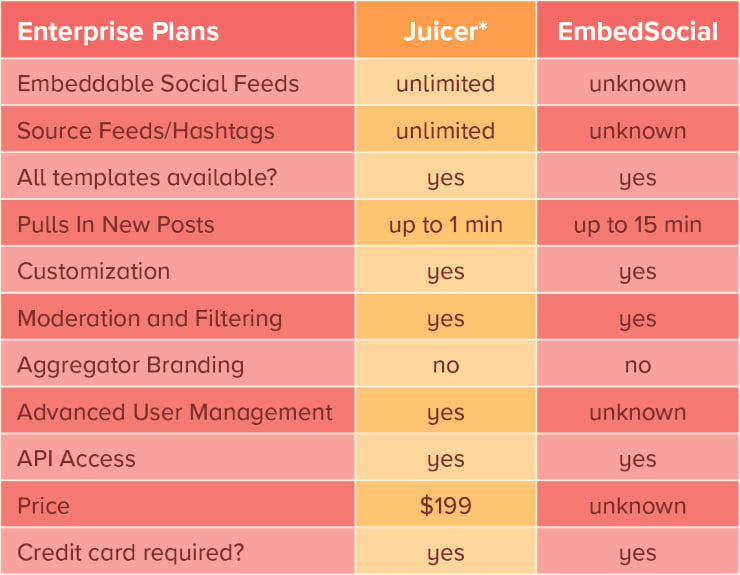 *Check out this support article for more info on Juicer's Enterprise plan or book a demo consultation with our service team.
WordPress Plugins
If your website operates on WordPress, Juicer and EmbedSocial both offer free downloadable plugins.
The Juicer.io WordPress Plugin is rated 4.5 stars in the WordPress app directory and has over 90,000 downloads. Juicer.io WordPress plugin works on all WordPress versions 3.0 and higher.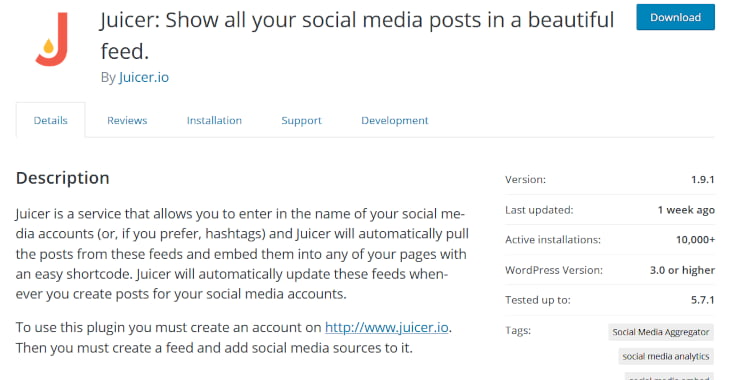 (Here's a step-by-step guide to downloading and using Juicer's WordPress plugin.)
EmbedSocial also offers a WordPress plugin. It has been downloaded 30,000 times and only reviewed four times. EmbedSocial's WordPress plugin works in versions 4.0 and higher — meaning it might not work if your website is running on an older version of WordPress.
According to the WordPress EmbedSocial plugin page, the EmbedSocial plugin hasn't been updated since early 2020. A disclaimer across the top page states, "This plugin hasn't been tested with the latest 3 major releases of WordPress. It may no longer be maintained or supported and may have compatibility issues when used with more recent versions of WordPress."
Customization Features
Juicer.io / Juicer Social
At Juicer.io, we understand the importance of customizing your feeds to align with your brand. Integrating a social media feed that looks and feels like it blends in with your overall website should be one of the most basic features of any social media aggregator tool.
Juicer offers 7 different gorgeous template options that can be fully previewed, adjusted, and tested within your dashboard.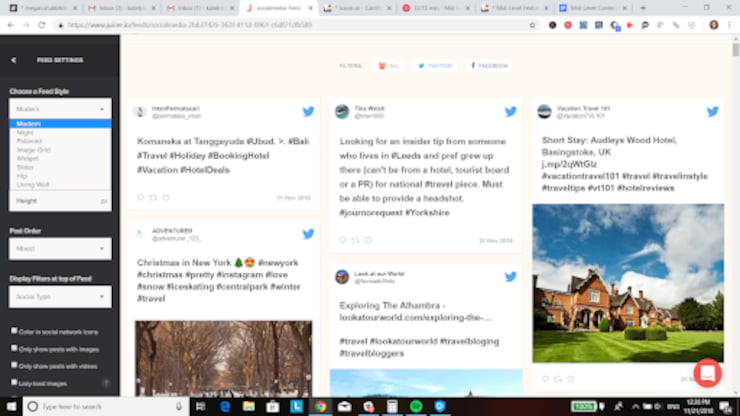 You can also modify color schemes, interval speeds, columns, widths and heights so integration with your web pages fits with your brand and is unique to your site. The Small, free plan shows Juicer branding in the feed but all of the upgraded options eliminate that feature. The Medium plan ($19/month) enables full customization with no Juicer branding appearing anywhere.
EmbedSocial
EmbedSocial provides some nice feed themes. Some features include a variety of unique templates, font and color customization options, and the ability to highlight certain posts. Here's an example from an EmbedSocial Instagram feed: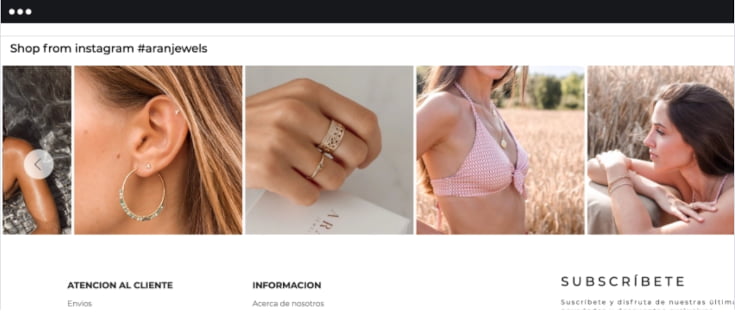 Juicer and EmbedSocial are clearly both top-notch social media aggregators with a wide variety of customization features. It simply comes down to your social media needs and priorities.
Are You Ready to Signup for a Social Media Aggregator?
Now you have done a careful analysis of Juicer and EmbedSocial. You have all the details in front of you. It's time to make an informed decision and choose the best social media aggregator for your business.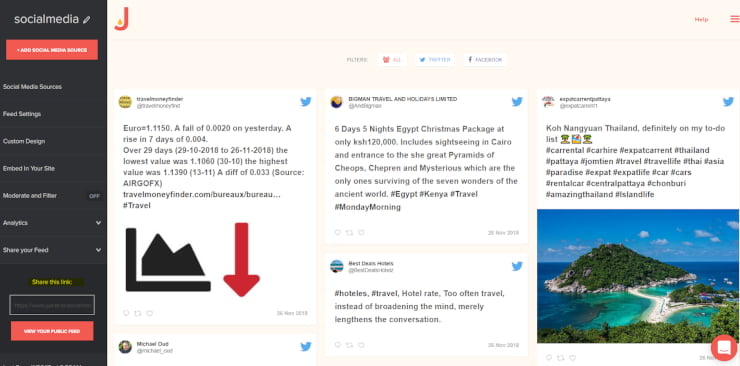 We obviously hope you choose Juicer, but we'll let you analyze the facts and do your own "aggregator to aggregator" comparison.
If you decide Juicer is the best option for you, you can sign up for a free Juicer account by entering your email and password. Then you'll be ready to let Juicer's social media aggregator take your website to the next level.