There are so many different options when it comes to choosing a social media feed tool. One of the popular options is the social feed service offered by Walls.io. But how does Walls.io compare to other attractive social wall services? In this post, it's Juicer vs. Walls.io where we'll compare the features, pricing, integrations, and more for the Walls.io social media feed and the Juicer social media aggregator.
What is a social media feed?
Before we dive into the comparison, let's quickly clarify what a social media feed actually is. A social media feed (also called a social wall or a social media aggregator) is a tool used to funnel the posts from multiple social networks onto one beautiful display feed. These social feeds can then be embedded on a website or displayed at an event.

What are the most important social media feed features?
There are a few key features worth taking note of when comparing any social media aggregator tools, which are:
Social Media Integrations: The whole point of using a social wall is to gather the posts from all of the social networks you use. Therefore, one of the most essential features of a social media feed is how many social integrations are available.
Social Wall Pricing: Another key component of any social wall is how much the service costs to use and what kind of plan options are available, and which features are offered at each price point.
Social Feed Customization Options: In addition to social media integrations and price, another element to consider is how customizable a social media feed is. The reason this is so important is the fact that making a social media feed fit your website and brand are a top priority for most people and businesses.
These are the three most crucial factors to examine when comparing social media walls like Juicer vs. Walls.io. As we compare the social media feed tool offered by each site, those three components will be the primary focus of our Juicer and Walls.io reviews.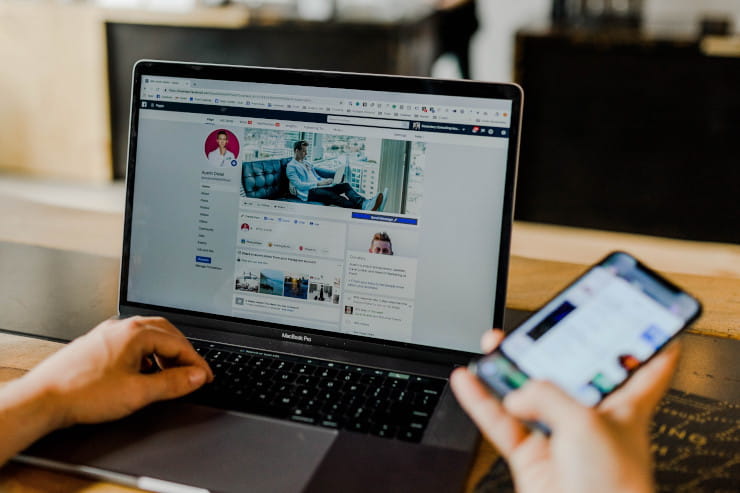 How does Walls.io compare to Juicer's social media feed?
At first glance, it can be difficult to distinguish how Walls.io and Juicer differ from each other. But once you dive into the details, you'll begin to understand just how different these two social media feed tools are from one another. First, we'll compare which social media integrations are offered by Juicer and Walls.io.
Comparing Walls.io and Juicer – Social Media Integration Options
Each platform has a number of similar social media integrations available such as Facebook, Twitter, and Instagram, but there are a number of integrations on Juicer for example that aren't offered on Walls.io's social media feed. Here's the list of social media integrations available on Juicer and Walls.io:
Juicer: Facebook, Twitter, Instagram, YouTube, RSS, LinkedIn, Yelp, Flickr, Tumblr, Pinterest, Slack, SoundCloud, Giphy, and Vimeo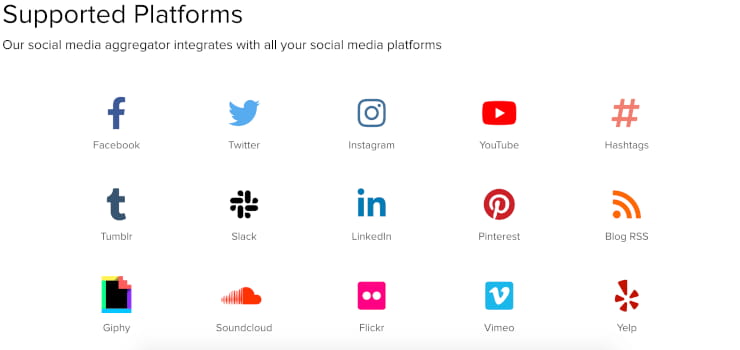 Walls.io: Twitter, Instagram, Facebook, YouTube, LinkedIn, ВКонтакте (VKontakte), Flickr, Tumblr, Pinterest, Vimeo, Messenger, Reddit, and RSS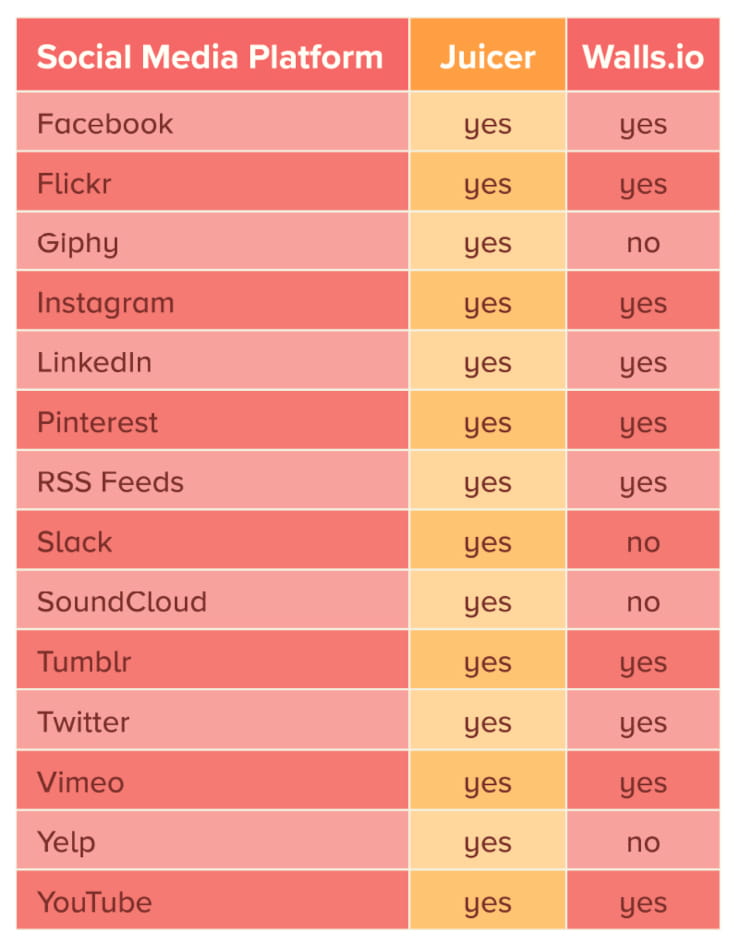 Comparing Walls.io and Juicer – Social Media Feed Pricing
Walls.io and Juicer both offer four tiers of pricing options starting with a free plan, but that is where the similarities end. When comparing Juicer and Walls.io pricing, you'll notice the large difference in how the prices increase. For instance, Walls.io's second-tier plan is more expensive than the highest tier option offered by Juicer. Here's a deeper look into how the pricing plans vary between Juicer and Walls.io.
Juicer Pricing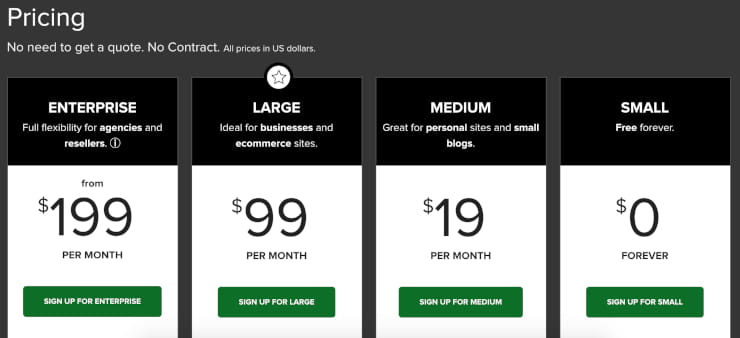 Walls.io Pricing

Free Plan
Juicer offers a free-for-life social media feed plan you can quickly set up and embed on your website. The free plan allows you to add two social media integrations or 2 hashtags and the feed updates every 24 hours. Juicer's free social media management plan is a fantastic option for personal accounts, smaller businesses, or marketers who only have a few social channels.
Here is how Juicer compares with Walls.io's free plan: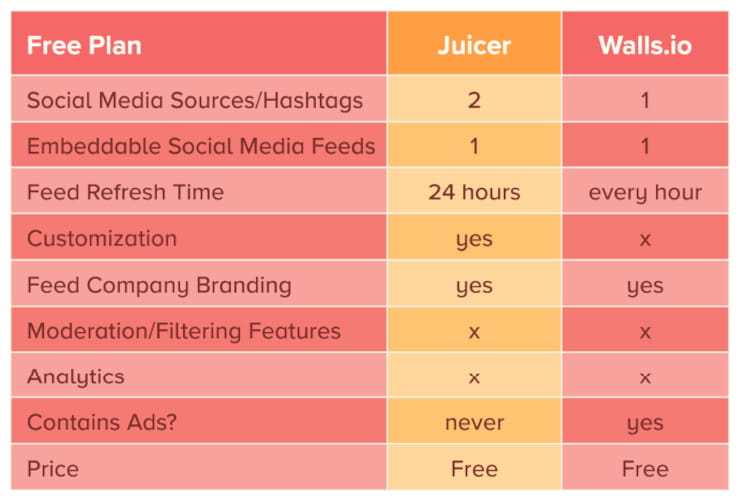 Medium Plan
When you move to Juicer's Medium plan, you gain another 3 social sources or hashtags bringing your account to 5 in total. The other addition with the medium plan is a feed refresh hourly (instead of every 24 hours), social media moderation tools, and the ability to remove the Juicer branding from the social wall. Here is how Juicer's medium social media feed plan compares to the next pricing tier for Walls.io: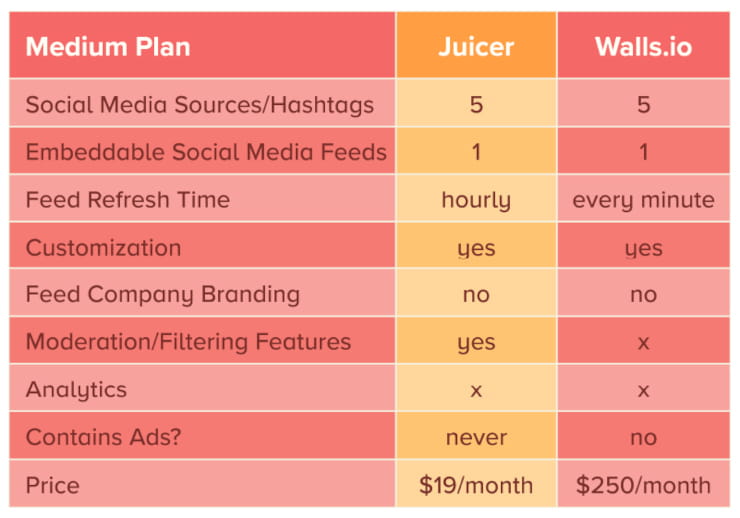 Large Plan
Juicer's large plan is a great fit for companies, brands, or larger agencies that need to incorporate a wide variety of social media integrations and want frequent updates. The large plan also differentiates itself from the medium plan with the addition of social media analytics. Here is how Juicer's large social wall plan compares to the next pricing tier for Walls.io: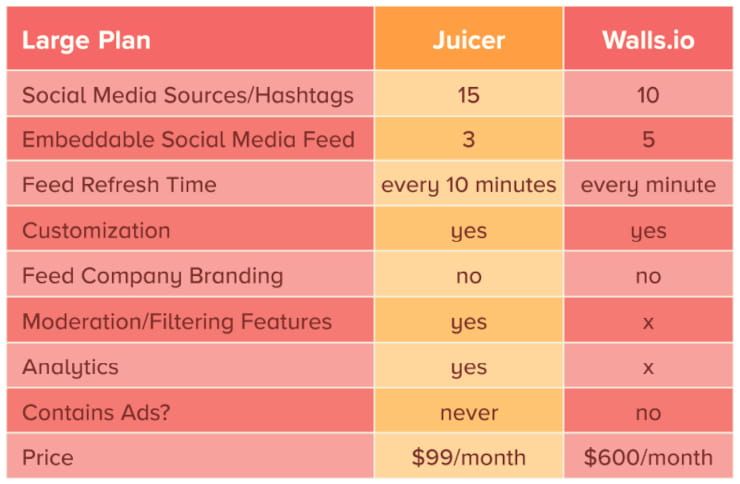 Enterprise Plan
If you want a plan where the sky's the limit, Juicer's Enterprise plan is your best option. Juicer's Enterprise plan allows you to create unlimited social media feeds with abundant customization options. Juicer's enterprise plan is designed for organizations that require more social media feeds and integrations than our normal plans allow. Walls.io does not have a comparable plan to Juicer's enterprise plan.
Comparing Walls.io and Juicer – Social Media Feed Customization Features
Brand awareness and social media go hand in hand, so we understand the importance of being able to customize the look and feel of your social media feed. At Juicer, we offer social feed customization features that allow you to tailor your feed to seamlessly blend in with your website.
Juicer provides 7 beautiful social wall template options to choose from that you can fully customize, preview, and tweak within the Juicer dashboard.
You can even add custom colors, adjust the feed's scroll speed, change the size of the columns, alter the width, or modify the height of the feed to create a truly unique end result. The free plan shows Juicer branding but any of the upgraded options eliminate that feature.
Walls.io on the other hand has only 5 templates and a billboard theme option. They do offer options to tweak the background, tiles, and fonts as well. And if you're really savvy, you can make alterations to the CSS to further customize your social wall.
In the end, the choice is obvious. Juicer's social media aggregator offers more social media integrations, lower prices, and more feed customization options than the outcome of our Walls.io reviews. But we'll leave it up to you to decide for yourself. Try out Juicer's social media feed today to see the difference in your next social media marketing campaign.