Finding the right WordPress social media plugin for your site can be tricky. WordPress runs 32% of the internet. On top of that, social media's role in the internet landscape has grown exponentially over the years. As such, the need for plugins that can merge the two has led to the development of thousands of WordPress social media plugins.
(Don't worry, we aren't going to cover all of them in this article.)
Instead, we are going to focus on plugins that will help you not only amplify your brand's voice, but will also allow you to further connect and build loyal relationships with your customers.
If you're wondering what types of plugins could achieve all of that, I've got 4 words for you – WordPress social media plugins.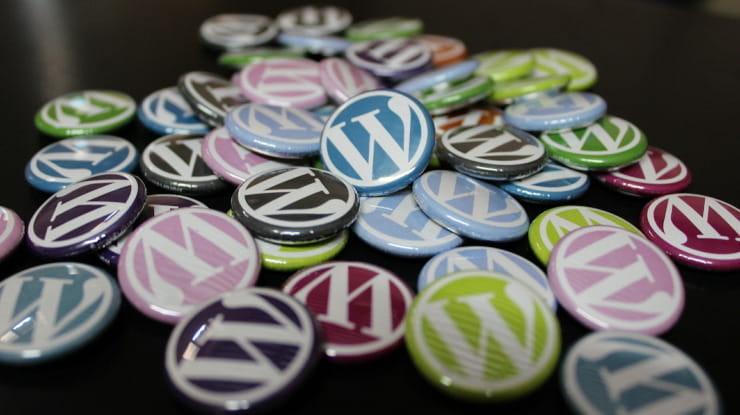 Display Your Social Side with WordPress Social Media Plugin or two
From social feeds embedded on your site to share buttons and posting tools, you'll never fall short of creative ways to integrate social media into your website. However, sorting through hundreds of different plugins can be exhausting and confusing.
So, which WordPress social plugin is best for your website?
First off, we can't really answer the question, what is the best social media plugin for WordPress because it depends entirely on your needs and website. Our article aims to help you decide for yourself, however, with a compiled list of the best WordPress social media plugins in a variety of categories.
WordPress Social Sharing Plugins
WordPress Social Media Feed Plugins
WordPress Social Media Posting Tools
Miscellaneous WordPress Social Media Plugins
Expand Your Content's Reach with a Social Sharing Plugin for WordPress
Have an interesting blog article or an amazing product page? Showcasing some of your most amazing photos? If so, you'll want to give people the opportunity to share your content directly from your WordPress site to their social networks, and this is done with a WordPress share buttons plugin.
Easy Social Share Buttons
For the best features vs. price, Easy Social Share Buttons takes the cake. This plugin provides you with a ton of features, customization, and advanced options such as analytics and A/B testing.
Easy Social Share Buttons for WordPress maintains a fantastic 4.7 out of 5-star rating and has over 30,000 sales. They also claim to be used by more than 500,000 websites.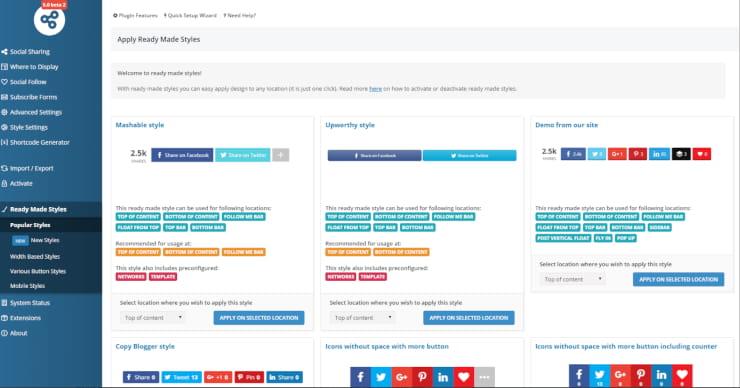 Some of Easy Social Share Buttons' best features include:
– 30 animations and multiple button styles
– Supports 50 social networks
– 55 pre-made templates
– 30 different position options
– Social metrics and analytics integration
– Easy social sharing opt-in/subscribe forms
– Social A/B split tests
– Follower Counter Displays
Easy Social Share Buttons' Pricing
Also great? This plugin starts at just $22, which includes 6 months of support.
Improve Time on Page and Engage Visitors with the Best WordPress Social Media Feed Plugin
While social share buttons encourage your site visitors to promote your content to their social networks, a WordPress Social Feed Plugin allows you to promote your social content on your WordPress site. Social media feeds essentially curate content from multiple social media platforms into one simple feed that can be embedded into your web pages or displayed publicly on a screen.
A WordPress social media feed engages your visitors, introducing them to your social side while increasing their time on page.
Juicer
Ok, admittedly we're biased, but the hard facts remain that Juicer offers the most simple, yet powerful WordPress social media feed plugin for the best price. Juicer's WordPress plugin averages a 4.5-star rating out of 5, with over 10,000 downloads.
Juicer allows you to integrate your favorite social media channels and manage the content and feed display from one simple dashboard.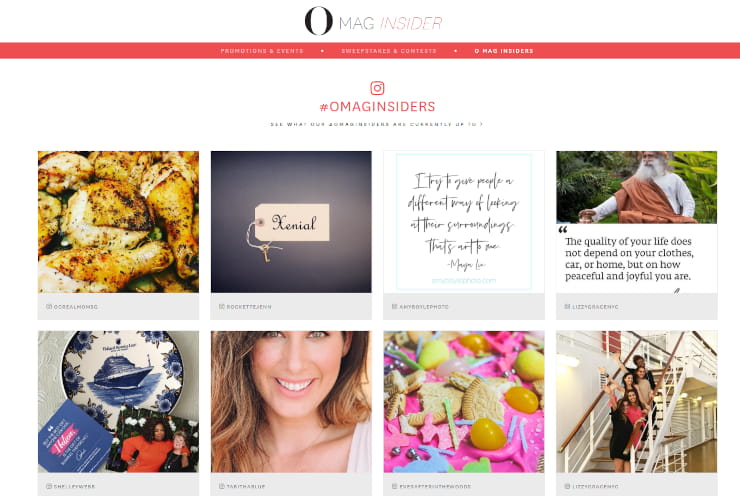 Some of Juicer's best features include:
– Integrates with 15+ social media platforms
– Automatic content refresh
– Customization options
– 9 built-in templates
– Moderation and filter tools
– Analytics
– Digital display
Juicer's Pricing
Juicer offers a pricing plan for everyone – from personal websites, to social influencers, to agencies and enterprise, we've got you covered. In addition to a free basic plan, we have Medium and Large plans that provide more integrations and features like filtering and analytics starting at $19 a month.
Best WordPress Plugins for Sharing Blog Posts
Creating, scheduling, and managing multiple social media platforms can be exhausting. Social media posting tool plugins help take some of the work off your plate by posting and scheduling content on your behalf.
Revive Old Posts
Constantly developing fresh content can be challenging. Sometimes other projects get in the way or the creative juices just dry up. This is where Revive Old Posts comes in. This plugin automatically recycles and shares your old WordPress posts to your social networks giving them more visibility. You can also set the interval and number of posts to share to drive more traffic.
Revive Old Posts has a 4-star rating out of 5 and over 40,000 installations.
Revive Old Posts features include:
– Share new and old posts.
– Choose the time between posts.
– Choose the number of posts to share.
– Use hashtags to focus on topics.
– Include links back to your site.
– Exclude categories.
– Exclude specific posts.
– Integrated with Google Analytics.
Pricing:
Revive Old Posts does offer a limited free option which includes posting capabilities to only Facebook and Twitter. Their paid options offer many more features such as custom scheduling and queue management.
WordPress to Buffer
Buffer, one of the best social media management and scheduling tools also offers a WordPress plugin. This plugin is created for those who already have a Buffer.com account.
WordPress to Buffer automatically updates your account as you edit or publish new WordPress blog posts. Your posts will then go into the Buffer queue you've set for your social media accounts and post them in line with your social calendar.
Buffer's plugin connects your Twitter, Facebook, Google+ and LinkedIn accounts. A pro version for business also includes posting to Pinterest and Instagram starting at $39/year.
Social Media Extras
These next couple WordPress social media plugins are unique in their own way offering some great additional benefits that complement some of the plugins listed above.
Social Locker for WordPress
Social Locker is a plugin for people who want more out of social buttons. If you feel like the standard social buttons aren't doing enough to make people like or share your content, Social Locker gives people an extra incentive by requiring them to unlock your content with a like. Your website visitors won't be able to access your content unless they like it first.
Check out the image below to see exactly what we mean: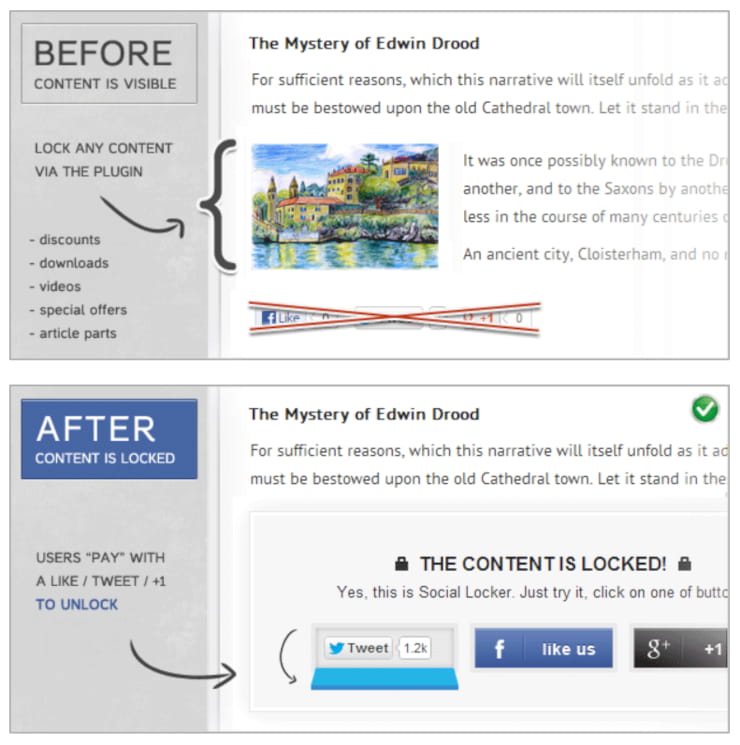 Benefits of Social Locker:
– 8 different social buttons for all major networks
– Customize each button
– 5 themes
– Collect emails and names of visitors
– Content overlay effects
– Built-in analytics
Pricing
Social Locker's regular license costs $27 with the option for extended support for a fee.
Revive Network
Revive Network actually works similarly to Revive Old Posts but aims to help you grow your social and professional network by sharing content from other websites on your social accounts.
You may be thinking, why would I ever do that?
First, people love to be recognized, and you're helping to spread the word about their awesome content. Second, your referrals are tracked in their Google Analytics, so the proof is there. Networking and relationship building is one of the most important ways to build credibility and expand your network.
Benefits of Revive Network:
– Integrates with Facebook, Twitter, LinkedIn, Tumblr, Google My Business and Vkontakte
– Customized Posting Schedule
– Customize templates
– Add RSS feeds
– UTM links get tracked in Google Analytics
Pricing
Revive Network's cheapest pricing model starts at $75.
Social media helps give your brand a voice and separates you from the competition. Products and services alone aren't enough to convert new customers anymore, they want social proof. WordPress social media plugins help bridge that gap.
Well, there you have it – a list of our favorite WordPress social media plugins. What are you waiting for? Get social!
Which WordPress social media plugin is your favorite? Feel free to share in the comments below!