Step one, get the ring. Step two, pick a date and venue. Step three, pick your wedding hashtag.
That's how it goes, right?
How to Use a Wedding Hashtag Generator
So where to begin? These days, there are several wedding hashtag generator tools to help you produce a creative and unique hashtag for your wedding. You simply type in a few details regarding the names, wedding date, or another key factor about your big day and these wedding hashtag generators will create personalized hashtags based on your criteria. You can peruse through the wedding hashtag ideas these generators come up with to find the one perfect for you and your partner!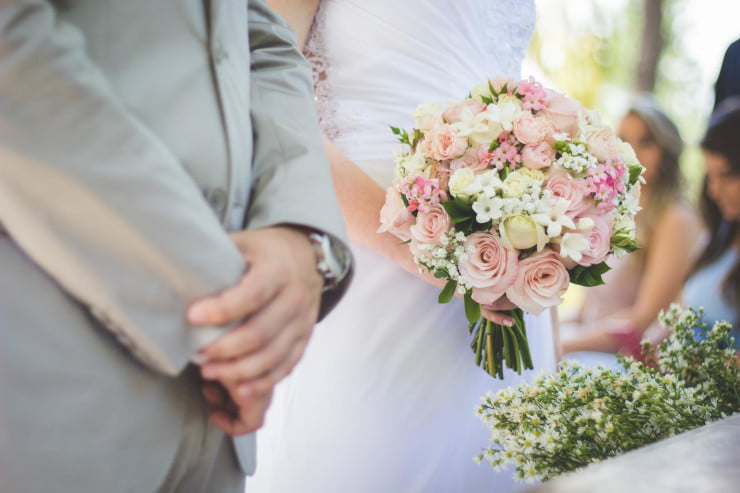 If you'd rather create your own wedding hashtags, consider these common and effective couple hashtag generator formulas when brainstorming:
Love Related Word + Last Name (examples: #CrazyAboutCarter or #MarryMeMartins)
Movie Related Phrase + Last Name (examples: #HadMeAtHelloHarveys or #TaleAsOldAsTurners or #BestDayEverBrowns)
Work your last name into a clever pun! (examples: with the last name "Barry", #ILoveYouBarryMuch or with the last name "Drew", #IDrew)
Last Name + "Wedding" + Differentiating Factor (examples: #AndersonWeddingATL or #FisherWedding2019 or #RodriguezWeddingCelebration)
It's important to do your research before selecting the official wedding hashtag. Research your favorite wedding hashtags you're currently considering on social media to make sure that the hashtag isn't a popular one. The more unique wedding hashtags are, the easier it will be for you and your guests to find the photos from your wedding instead of sorting through several other folks' big days.
Take time to generate a wedding hashtag you and your partner truly love, after all, hashtags can be the making of a happily-ever-after wedding day! Once you've generated the wedding hashtag, we want to make sure your hard work was well worth it.
Here are five ways to make the most of your wedding hashtag.
Encourage Guests to Use Your Wedding Hashtag on Social Media
We all know that wedding hashtag generators are primarily used for posting on social media but are you making it known to guests exactly how you'd like them to use your hashtag? While social-savvy guests will know exactly what to do, other guests might not! Consider making an announcement during cocktail hour or during the reception if there are any specific requests the couple has regarding social media (or if there's a part of the wedding when phones should be put away).
Another way to use your wedding hashtag to add some fun to the event is by creating a wedding day social media scavenger hunt! This is a great way to help guests meet one another and entertain everyone during periods when the bride and groom are busy with other activities. The scavenger hunt rules can be printed on small cards to be scattered on tables, or included in the wedding program. Ideas of challenges can include:
Take a selfie with a new friend from "the other side" of the wedding party that you just met! And make sure to include our wedding hashtag!
Find 3 friends who all have the same favorite dance move. Post a video of the four of you breaking it down on the dance floor together!
Record a video of you sending your best wishes to the bride and groom and include wedding hashtag!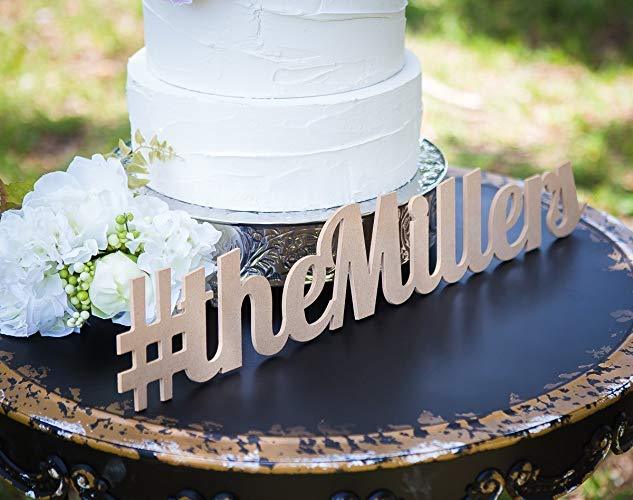 Decorate with Wedding Hashtag-Themed Signage
There are so many trendy ways to include your wedding hashtag into the decor and signage of your event! Many vendors offer several options for personalized signs depending on your style and the wedding venue. Whether you want to keep it simple with a laser-cut wood sign or want to light up the night with a neon-illuminated sign featuring your wedding hashtag, it's possible!
A larger wedding hashtag sign can act as a standout piece as the backdrop of the dance floor. For those who want smaller influences of the hashtag, consider opting for several smaller signs that can be positioned as part of the centerpieces on tables around the reception or cocktail area.
An added bonus? These signs are great to reuse as a decoration in your first home together as a married couple. You can look at the wedding hashtag you generated fondly and remember your special day!
Use Your Wedding Hashtag to Generate a Social Media Wall
If you really want to step up your wedding hashtag game, consider setting up a social media wall for your reception space! All you need to create a social media wall with your generated wedding hashtag is a designated, plain wall or screen, a projector, and a Juicer account.
Once you set up your Juicer account, you can adjust the settings to create a feed based on your wedding hashtag. The Juicer social media aggregator will use your hashtag to generate every post your guests tag with the official wedding hashtag into the feed. The feed can then be displayed at your event via a projector.
It's a great way to make guests feel included in your big day, and a wonderful way for the busy bride and groom to take a peek at what their guests are sharing in real-time instead of days after the wedding!
Glam Up Your Guest Book with a Wedding Hashtag
If you'd like to incorporate your wedding hashtag in a more subtle way, consider using it in your guest book. Guest books are usually one of the first parts of your wedding that guests will come into contact with, and even a subtle introduction to the wedding hashtag can help remind guests to use it!
There are several options for sneaking your wedding hashtag into the guest book. Depending on the material, consider getting the wedding hashtag engraved or embroidered on the cover. Another choice would be to have the hashtag printed in the corner of each page within the book. This is an incredibly classy, and fairly simple option for making the most of your generated hashtag.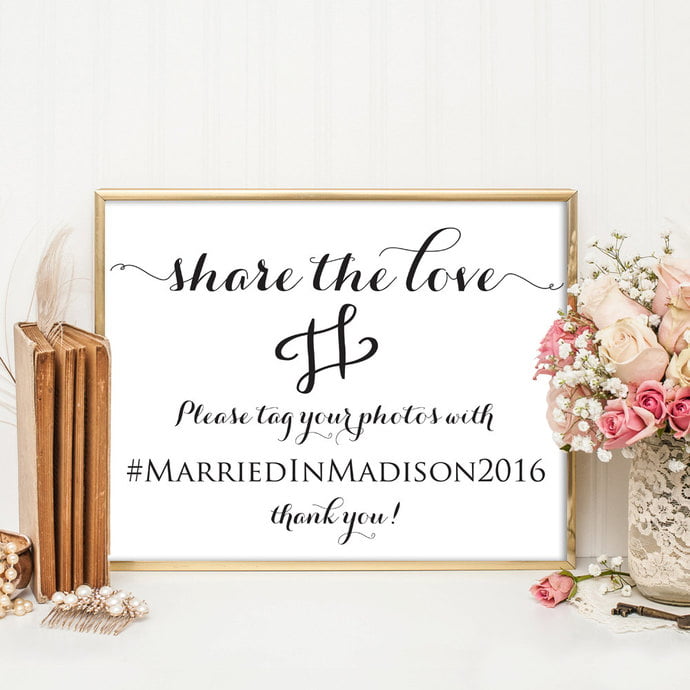 Feature a Wedding Hashtag in the Photo Booth
If your wedding reception will feature a photo booth, you have a perfect place to showcase your clever wedding hashtag! Depending on the vendor you choose for this service, they may already have built-in options available to you for customization. Some photo booth services allow you to design a border for the printed photos or include a special message (read: your wedding hashtag) on the bottom of each snapshot!
If printing the hashtag on the photos isn't an option for you, there are several other ways to make that hashtag happen! Consider designing a simple backdrop, or hanging a sign to feature your wedding hashtag behind guests as they pose. An even easier option? Create a few small signs that guests can hold up in the photo booth to celebrate your love through hashtag!