These days it can be difficult to keep up with the constant updates and additions to social media. You might want to embed Instagram feed on website or you may already have your Instagram aggregator set up, but did you know there are even more features to explore? Instagram has evolved into one of the world's most popular platforms and Instagram Live videos are one of the latest features.
But as any social media mogul knows, it's not just about knowing how to use social media, it's about being able to use it well. Read on to learn the best tips and tricks for using Instagram Live for your business.
What is Instagram Live?
Instagram Live is a feature within the Instagram application. These videos are a sub-section of the Instagram Stories feature. While Stories can include images or videos you've recorded and posted afterwards, Instagram Live videos are streamed (you guessed it) live and in the moment.
These videos are similar to a video chat or video call, except the Instagram Live video is being streamed to anyone who chooses to click on your Story icon, rather than a specific individual.
How Does Instagram Live Work?
To access the Instagram Live function, click your profile image, or swipe right on the homepage to access the Instagram Stories area. You should see a list of options across the bottom of your screen. Scroll through these options to find "Live". This is the Instagram Live page. When you are ready to begin, click the large "Go Live" button. Your screen should look something like this: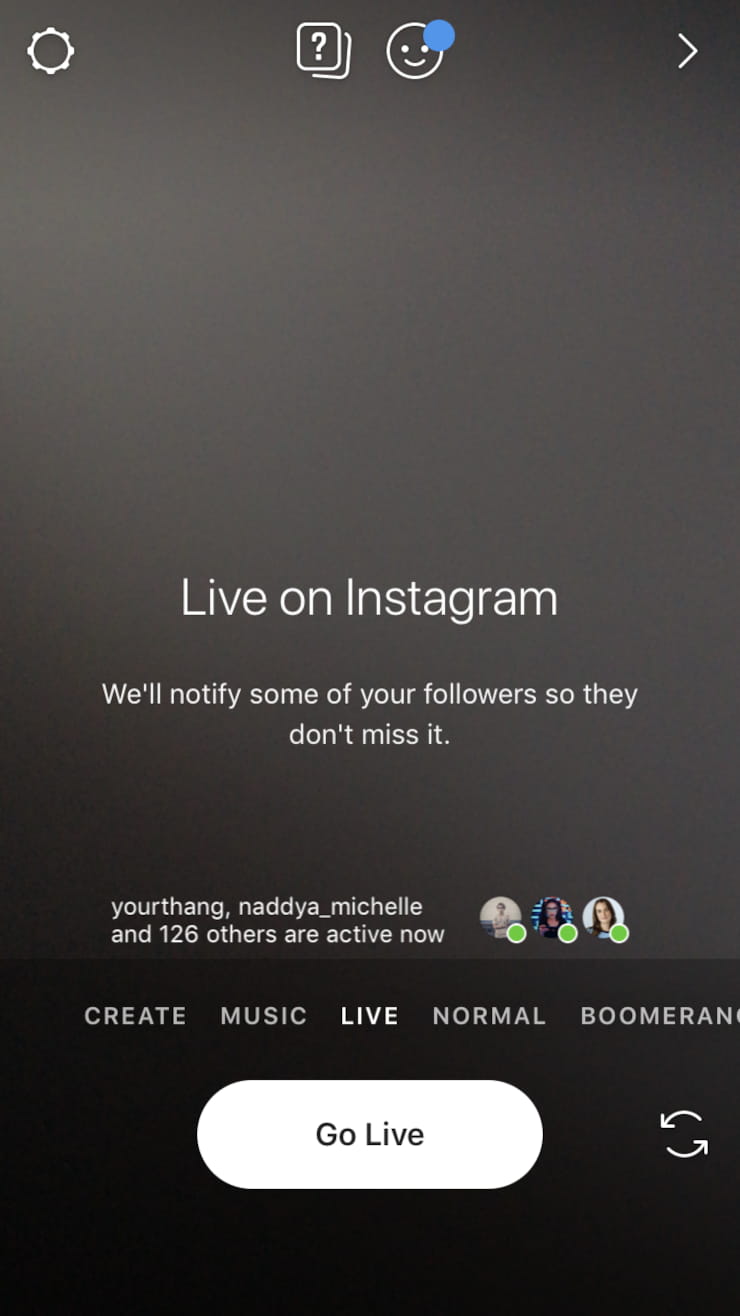 During an Instagram Live, you'll notice that there are several additional details that are not typically included in a normal Instagram Story. You'll have a pink "Live" notification at the top of your screen to let you know you are live streaming.
The number of viewers watching will also appear at the top of your screen. To the left, you'll see two arrows. Click that button to toggle between your front and back cameras. On the upper right of the screen, you'll see and "End" button. Only click that button when you are ready to conclude the Instagram Live video.
Across the bottom of your screen, you'll have several additional options to help you connect with your viewers. Comments from viewers will start to appear at the bottom of your screen in the "Comments" area. You can add your own comments there, or tap a comment and select "Pin Comment" to hold a specific comment in view for everyone to see.
You have options to send responses to comments, add friends to the video, add stickers, and share videos or photos with the other icons on the bottom of your screen.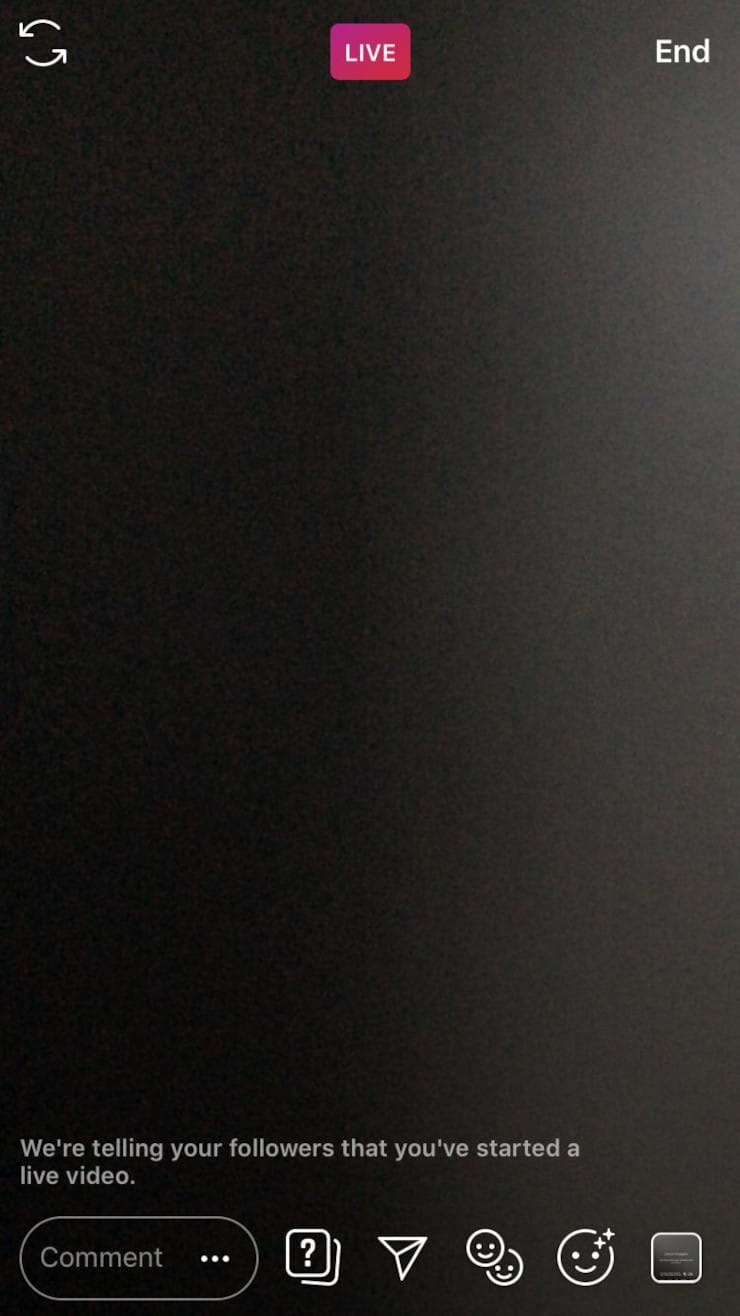 When you are ready to finish your Instagram Live, hit "End". You'll then be brought to a screen that provides the option for you to "Share to Story" so that viewers who were not part of the live video chat can watch the recorded version.
If you don't want the video posted to your Story, you can select "Delete Video". If you'd like to save the video to your phone's camera album, select the arrow above a line icon in the top left corner. The "Live Video Ended" screen looks like this: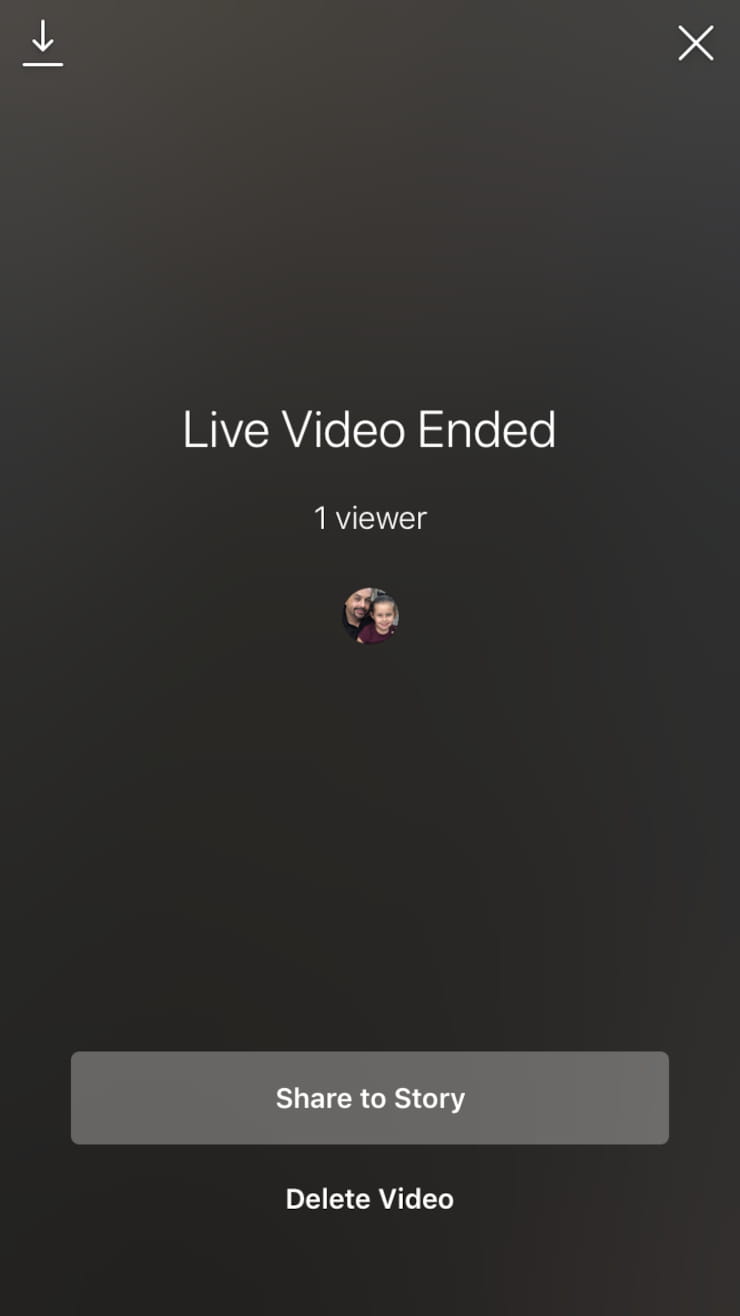 Types of Instagram Live Videos
So now that you know how to use Instagram Live, it's important to understand what makes a video truly engaging. It's important to get creative with these videos and take time to brainstorm the unique qualities of your business that might work well within the capabilities of the feature.
What about your business gets followers excited? What questions or concerns might they have that you could assist with? What would make them laugh? These are important questions to think about when crafting your Instagram Live videos.
There are a few formats that tend to work well for many popular Instagram Live users across various industries. Here are the top types of Instagram Live videos.
Q&As
This type of Instagram Live event is one of the easiest and most popular options. Perfect for personal brands or businesses offering a product or service, Q&A's offer an opportunity to create a deeper connection between you and your followers.
For smaller brands, consider preparing in advance a few questions of your own that you think many followers might have thought of themselves at one point or another when engaging with your brand.
These are great to start with to get the viewers warmed up. Other options for curating questions are by asking your followers to submit their questions in the days leading up to the Live Q&A. You can also ask viewers to comment their questions directly on the Live Story. Great examples of creative Q&A-style videos are the 73 Questions by Vogue series.
Demonstrations
If your business is based around a specific line of products or services, Instagram Live Stories are the perfect place to demonstrate how they work. Does your product require some assembly? Provide a step-by-step instructional video to walk users through the process. Is there a bit of mystery surrounding how your team pulls off the incredible services your business offers?
Let viewers get an idea of how the process works. This is also an excellent arena to showcase different members of your team to help potential customers put a face to the name.
Tutorials
Tutorials are another fun and exciting Instagram Live video idea to offer your followers. Tutorials are an excellent idea for those in the beauty and skincare, culinary, art, music, or crafting industries. Whether you're teaching followers how to cook a quick dessert, create a beautiful date night makeup look, or play a song on the guitar, tutorials offer your viewers immense value.
Tutorials are also a great way to allow folks to connect with your personality and build trust. For example, if you are a chef hoping to sell your new cookbook, providing a sample of one of the recipes included can help win over followers who aren't sure if they'll like your food. When they follow along with your tutorial and like the recipe, they might be more inclined to buy your cookbook.
Behind the Scenes
Another fun option for Instagram Live videos is a behind the scenes look at an operation or event. Whether you're hosting a big fashion show, or want to give a tour of where your products are created, these videos help viewers feel like they're part of your business.
They also are likely to feel special because of the "secret and exclusive" concept surrounding "behind the scenes" looks. Be sure to prepare some fun facts and interesting subjects to talk about as you guide your viewers through the behind the scenes tour.
Performances and Events
Want to entice your Instagram followers to purchase a ticket to a concert, conference, or other performance event? Give them a little taste of what they can expect with Instagram Live. Perform a song, show a rehearsal of a speech, or stream a snippet of the band playing at the gala to entertain and intrigue your Instagram followers.
This idea is perfect for musicians, dancers, motivational speakers, filmmakers, fashion designers, or any organization that hosts events. At the end of the Instagram Live video, be sure to include information on how viewers can buy a ticket or other access to the performance they just watched.
Tips for a Successful Instagram Live Video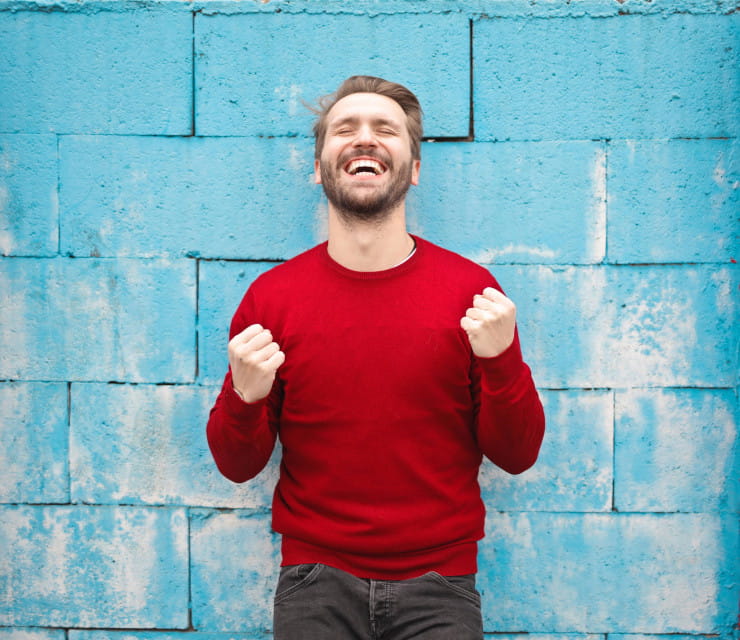 1. Plan Ahead
While in many cases you want to maintain a light and casual mood, it's still important to plan your Instagram Live in advance. Selecting the day, type of video, and preparing for any props or other people who need to be involved will help minimize stress and maximize the enjoyment factor for you and your viewers.
2. Collaborate with Others
Teamwork makes the dream work! Brainstorm ideas for Instagram Live videos with your teammates and reach out to potential partners who might want to collaborate on a video with your brand. Whether that means bringing in a surprise guest, or showing off the talents of team members from across the country, mixing up the faces you see in the videos can add diversity and intrigue.
3. Advertise the Instagram Live Event
Let people know ahead of time about your Instagram Live video to build anticipation and increase attendance. Make an announcement about the upcoming event on your social media platforms. This is a great time to ask your followers for any questions or ideas they'd like to submit for inclusion in the Instagram Live and gives them an opportunity to mark the date and time down so that they know when to tune in.
4. Be Real
One of the best parts about the Instagram Live feature is that it allows your followers to get to know the true personality of your brand, not just what you're selling. While it is important to present a polished and positive experience, make sure you don't venture into robot territory. Your viewers want to connect with another human being, so don't be afraid to be yourself and let those walls down.
5. Ask Questions in Advance
You don't know unless you ask! Ask your viewers what they would be excited to see in future video content. Take their feedback into consideration and continue to check in with them over time to get a sense of what works and what might need some adjustments. It's also useful to ask followers to submit their burning questions in advance of a Q&A-style Instagram Live. This will create a bank of questions to use to help minimize any awkward silences, and allow you to prepare your answers in advance.
6. Keep the Audience as the Focus
At the end of the day, you're creating the Instagram Live videos to entertain or educate your followers. It's important to make sure that their best interests remain at the heart of every choice you make. While it can be easy to get carried away with an idea your team is excited about, make sure you check in with your audience to ensure that direction is one they like as well.
7. Stick to Your Brand Guidelines
Just like your other communications efforts, it's critical to stick to your brand guidelines when developing Instagram Live videos. From the colors and logos featured to the way in which your host is speaking, each of these little details combine to create an idea of your brand. That idea can truly make an impression on your viewers. Adhering to the brand guidelines ensures that the viewer's experience is consistent across all channels and mediums in which they come in contact with the business.
By following these tips and tricks, your brand is sure to develop engaging and creative Instagram Live videos that will delight your viewers.